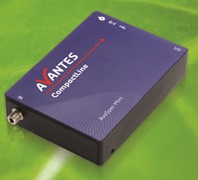 At booth C37, Avantes will demonstrate the new AvaSpec-Mini-CL series, which can be equipped with a 2,048-pixel CMOS detector or a 4,096-pixel array.
Enjoy the speed and enhanced native UV/NIR response of CMOS with resolution down to 0.1nm. The design allows less than 0.2 per cent stray light, and the fast response time boasts data transfer speeds as fast as 4.6m/s scan and integration times ranging from 30µs to 59s.
As a result of the new design and using the latest automated production alignment tools, unit-to-unit reproducibility can be assured, in combination with excellent temperature stability. It is the ideal spectrometer for OEM applications. There are multichannel capabilities and DLL package available.
The AvaSpec-Mini finds its way into many areas of research, such as light analysis, chemical research and Raman spectroscopy. As it is easy to transport, the instrument is also very well suited to handheld applications.