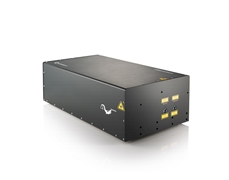 Coherent's Chameleon Discovery laser with total power control, is a one-box turnkey laser for multiphoton excitation (MPE) microscopy with built-in, high-speed power modulation included. Based on the latest acousto-optic technology, this new functionality provides modulation on both the tuneable femtosecond output and high power fixed output.
Real-time power modulation is important in MPE for several reasons. It enables optimisation of laser power for the depth of each image plane, and for fast 'flyback' beam blanking when unidirectional raster scanning is required. Additionally, rapid online power control is often required to compensate for the sinusoidal velocity profiles of the latest resonant scanner technologies.
The laser provides fast rise-time analogue and digital control of laser power, which can be synchronised with the microscope scanning optics.
The Chameleon Discovery now includes an expanded tuning range, which when coupled with a frequency doubler, ensures gap-free wavelength coverage from 330nm to 1,320 nm. This is of special interest for ultrafast spectroscopy and other time-resolved studies. Power levels are also boosted on both tuneable and fixed outputs.