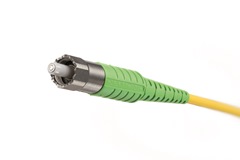 Diamond manufactures and assembles high performance fibre optic interconnect solutions. Its Active Core Alignment technology insures high-performing connector termination.
Attendees visiting the firm at booth 4786 will be able to see the official launch of the Diamond PM+ connector types, which are designed to achieve a repeatable, high polarisation extinction ratio, in addition to excellent insertion loss and return loss values.
The firm will also be showing its new Diamond AVIM family of connectors, which are ideal for applications requiring high optical performance coupled with enhanced vibration and shock resistance. The newest family members are the Midi AVIM, for use on cabled assemblies, and the Micro AVIM, which is well-suited to vacuum applications. In addition, mating adapters are available in titanium for improved chemical resistance.