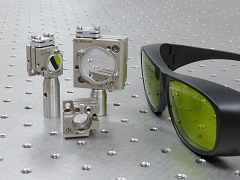 At booth B10 Elliot Scientific will be presenting its Elliot|Martock range of XYZ flexure stages, which are used for alignment and fibre launch in research and production environments. The firm will also be displaying its portfolio of miniature translation and rotary stages that are often incorporated into OEM products for the optical and semiconductor industries.
For the first time at the show Elliot Scientific will be exhibiting items from its Siskiyou catalogue, including their IXF mirror mounts, which enable the delivery of exceptional pointing stability in thermally demanding situations. Also new for 2018 are high speed green and IR lasers from IPG Photonics, which operating in the pico- and femtosecond regimes are ideal for scientific and medical research.
Lastly, Elliot Scientific will be also presenting its Prizmatix ultra high-power LED light sources.