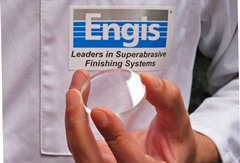 Superabrasives specialist, Engis, is bringing two newly-developed polishing slurries to its stand at Optatec: En-Sapp and En-Cer.
En-Sapp, a polishing slurry for C-plane sapphire, has an ultimate crystal size of 0.3-0.5μm and can produce high quality surfaces to 0.2nm Ra. The product's high percentage of solids means that it can be diluted with water to reduce processing costs, while its high stock removal rate makes it many times faster than colloidal silica. Furthermore, its non-crystalising formulation results in reduced machine down-time and maintenance, so increasing efficiency and extending machine life.
En-Cer glass polishing slurry is a versatile product which can be used on both pitch and pad polishers and has a 0.8-1.0μm soft particle size, offering reduced polishing times while producing high-end surface quality (0.2nm Rq BK7 and fused silica). This product also has a high solids content and can be diluted to achieve optimum performance on different types of glass and, in addition, suffers from no freezing restrictions, so can be supplied over winter months, thereby reducing inventory and costs.
Both En-Cer and En-Sapp can be re-circulated, reducing processing costs and increasing efficiency.