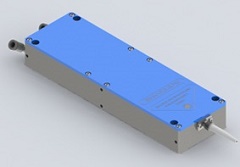 Frankfurt Laser Company will be presenting the Fach-450-10WFC105, a new high power blue laser diode module with outstanding high brightness. The module delivers more than 10W of power at 450nm wavelength into the 105µm core fibre. It is a direct diode laser product with an integrated water chiller and thermistor.
The module has no moving parts, which makes the laser particularly reliable. The expected lifetime of the module is more than 10,000 hours, with its main applications being plastic material processing and accurate micro-soldering on PCBs. It is also suitable for 3D printing and other industrial, medical, scientific and laser display applications. The laser output power is scalable with multiple 10W fibre-coupled blue diode modules.
The company will also be displaying its new line of compact medical lasers. These lasers are fibre-coupled in a 200µm fibre with SMA-905 connector. Available as both 40W and 60W versions in a variety of wavelengths, the standard features of the new lasers include a red pilot beam, a fibre detection sensor, a power monitor diode and a temperature sensor.