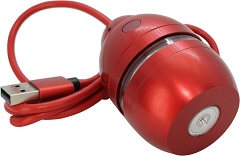 Frankfurt Laser Company (booth 145, Bios 8145) will show its new LED mini-spectrometer, a compact, lightweight instrument for spectral analysis in the near-infrared range 1.3μm to 2.4μm.
The device's optical block is comprised of 12 near-infrared LEDs with different emission peaks and a wideband photodiode. The LEDs are turned on one by one and irradiate the analysed sample. Emission reflected back from the sample is captured by the photodiode, converted into electrical signals that are processed by the electronic block and the software.
The company will also display its new ML1xxFC laser diode modules with single mode fibre output, wavelength range from 405nm to 1,550nm and power of up to 100mW. In addition, a 450nm diode laser module delivering 13W from a 105μm fibre will be shown.
Lastly, the firm will also be showcasing the laser modules of its ML2040-Series, which deliver high output power up to 2W, have a very small footprint of 110mm x 40mm, and are ideal for the use in industrial applications with harsh environmental conditions. The offered wavelengths range from 450nm to 1,060nm, and apart from round and line beam, other beam shapes such as grids, circles or line and dot arrays are available.