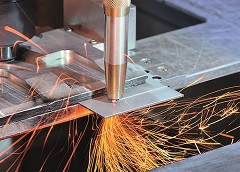 At booth 4629-27 Fraunhofer ILT will be exhibiting new laser optics with diamond lenses that have enabled the institute to produce a laser cutting head that is 90 per cent lighter than comparable components instead using glass lenses. Used with a 1kW fibre laser, the diamond lenses allowed 1.5mm stainless steel to be cut without any difficulties in a 2017 trial.
Fraunhofer ILT will also present the Future Laser System, or FULAS for short, which it intends to act as a foundation platform for future laser and optical systems for the aerospace industry. FULAS not only features space-grade components, it also comes with semi-automated assembly technology. The FULAS demonstrator passed environmental qualification tests conducted in Airbus Defence and Space's climate chamber. Researchers are now developing and building the beam source for the Merlin satellite mission. 
Lastly, the institute's new diode laser technology for energy-efficient materials processing as a result of the 2016 Bridle project will be shown. The institute built a demonstrator that successfully coupled five wavelengths from different emitters on one bar into one 35µm fibre. Its output power is 46W, but various options allow for further scaling. Another system with around 800W output from a fibre with a core diameter of 100µm has also proven its merits in cutting tests.