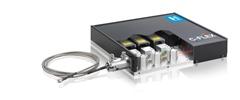 Hübner Photonics has expanded the range of options for the compact and flexible laser combiner, C-Flex, which it will present for the first time at Photonics West and BiOS. Targeting holography and Raman spectroscopy, these options include a high power (up to 1.5W) red, green and blue (RGB) version with a choice of three wavelengths from the Cobolt 05-01 series of single frequency lasers, and a compact version with a choice of 3-6 laser lines from the Cobolt 08-01 series of diode and narrow linewidth lasers.
Designed around the integration of Cobolt 06-01 series of modulated CW lasers, the standard C-Flex offers full modulation capability and streamlined operation via a single computer interface. In addition, by being field upgradable, lasers can be added over time or as needed, making C-Flex the first choice of laser combiner for researchers in life science, holography and Raman spectroscopy.
Booth #2451 (Photonics West) and #8839 (BiOS).