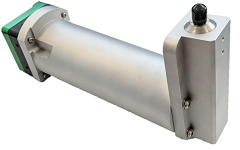 Ibsen Photonics will be introducing a new highly efficient 840nm Eagle OCT-S spectrometer with exceptional optical throughput and a compact size for spectral domain optical coherence tomography (SD-OCT).
Eagle spectrometers offer high resolution while being compact and robust, making them suited for OEM integration into medical and industrial-grade instruments for applications such as Raman as well as SD-OCT.
The Eagle OCT-S is particularly compact due to the use of Ibsen's wide bandwidth transmission gratings, which are also what makes the system highly efficient. The wavelength range of the standard version is 810-900nm, however it can be customised to other ranges. The system is supplied with Teledyne E2V's OctoPlus camera, featuring 2,048 tall pixels.
Ibsen Photonics can be found at booth C23.