Iridian Spectral Technologies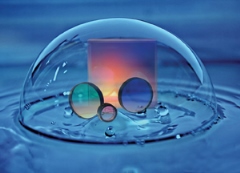 Iridian Spectral Technologies (booth 644) provides optical thin film solutions and coating services to a wide variety of industrial and research sectors. The company is a global supplier for applications in telecommunications, spectroscopy (Raman, fluorescence, flow cytometry) and the entertainment industry (filter wheels, glasses for 3D cinema). The company covers the spectrum from prototype development to volume production.
Iridian has developed a high degree of automation to ensure high quality and low cost products. It has an excellent capability to produce both high volume commodity filters and custom thin film optical filters.
Two technologies give Iridian a unique edge in the manufacture of thin film optical components: Spectrum@IST, Iridian's thin film filter design and deposition process control software, provides exceptional design flexibility; and Scan@IST, the company's optical characterisation and filter processing technology ensures accurate and fast evaluation combined with automated pick and place.