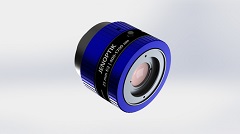 Jenoptik will present its solutions for the digital world, healthcare and industry 4.0 at Photonics West booth 1023 and BiOS booth 8513.
Four new completely fused silica F-Theta objective lenses, a fused silica beam expander for high-power laser applications, and three new standard F-Theta lenses will be on display. The new designs boast improved VIS performance for the visual monitoring of manufacturing processes in the range of 1,030-1,080nm. In the 500–680nm range, lens transmission measures over 85 per cent and enables direct process monitoring through a simple combination of image sensor and filter. With a coating for 900-1,100nm instead of the previous 1,030-1,080nm, Jenoptik's new Silverline lenses for the NIR range are especially suitable for the broader spectra that are typical of diode lasers.
Also on display will be the firm's new 1x-8x motorised beam expander, which simplifies production steps in laser material processing. The expander is offered for wavelengths 355nm or 1,030–1,080nm. The expansion can be continuously adjusted from 1x to 8x using software commands.
The Jenoptik 25mm f/2, 400–1,700nm hyperspectral lens will also be shown, which maximizes the performance of many popular SWIR and hyperspectral cameras. A broad spectral range of 400–1,700nm combined with an adjustable diaphragm makes the new lens very versatile.
Lastly, Jenoptik will also exhibit its range of enhanced Diffractive Optical Elements (DOEs). Thanks to high uniformity, precise control of the diffraction orders, and reduction of the zeroth diffraction order, Jenoptik´s beam shaper/splitter are key elements for boosting welding, dicing, ablating and drilling processes. Customised DOEs are available in small to high volumes, from UV to IR and from low to high power applications.