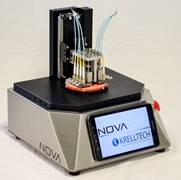 KrellTech will be exhibiting its line of fibre optic and photonic polishing equipment at Photonic West (booth 4322) and introducing the Nova system.
Maximum flexibility for optical surface processing is now available with Nova.  KrellTech has integrated the proven performance and features of its Scepter, Trig and FLex polishers into this configurable and cost-effective system.  
Nova supports a variety of polishing applications from connectors to waveguides, and bare fibres to custom components.  Nova is scalable for R&D projects, high volume production, and the rigors of high-reliability field installation.
Wireless tablet control with a familiar Android interface provides the programming flexibility required for research, as well as simplified step-by-step operation for manufacturing technicians.  Workholder fixtures are easily interchangeable for each task, and optional videoscopes are available for real-time process monitoring and in-line surface inspection.
Whether developing new optical devices, improving component performance or manufacturing Telcordia-compliant cable assemblies, Nova is the ideal polishing system.