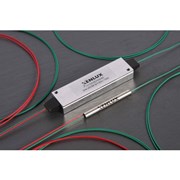 Laser 2000 will present various products from its partners. such as:
Xenlux develops, manufactures and supplies standard and custom fibre-optic components such wavelength multiplexers, short- and long-wave band-pass filters, star couplers and attenuators. The integration of these components with the active components such as transmitters or receivers enables the construction of custom modules. These then serve as an interface for the measurement of the spectrum or various physical quantities such as temperature, pressure, strain or torsion.
The new Hyperion colourimeter from Admesy is the colour measuring device of the next generation. It offers the best filter characteristics and extremely high sensitivity especially for colour and display measurements in the laboratory and in the production environment. 
The beam analysis systems by DataRay has been proven in recent years as a reliable measurement component in research and in production. A new feature in the software now allows the measurement of line lasers up to 200mm in length. In addition, radiation can be analysed easily with a diameter of 250mm. 
Hall 3.0 at stand A19.