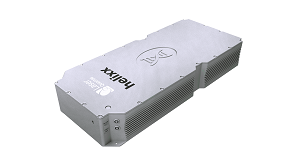 Laser Quantum will be exhibiting its Helixx and Axiom systems, and can be found at Novanta's Photonics West booth 1834, and at the BiOS booth 8457.
The Helixx is a turn-key femtosecond laser, ideal for a variety of scientific and industrial applications. The system features a 250MHz repetition rate and delivers an average output power of more than 2.3W in pulses less than 50fs, tuneable between 720nm - 920nm.
Designed for a range of environments, the Helixx is hermetically sealed and is vibration-resistant. The system's replaceable pump diodes, contained within the control unit, minimise temperature effects on the laser head.
The Helixx is well-suited to applications such as two photon microscopy as the 250MHz repetition rate diminishes phototoxicity and photobleaching to minimise damage to cells, and minimises the emission dead times of typical fluorophores.
The Axiom family of lasers feature excellent high stability and low noise levels, for use in applications such as particle image velocity, fluorescence imaging and microscopy. The Axiom 660is a continuous-wave laser featuring an innovative stress-free cavity architecture, containing the integrated diode and active optics within the compact laser head. It can deliver up to 6W of red light and is well-suited to Raman imaging, generating detailed chemical images based on a sample's Raman spectrum.  The Axiom 532 on the other hand, which will also be on display at the show, can deliver up to 12W of green light. Both lasers can be easily integrated into many scientific and industrial application setups.