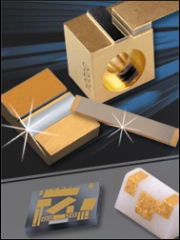 Lew Techniques will be showing its capabilities in the precision custom manufacture of submounts and carriers for laser diodes, laser bars, laser stacks and photodiodes.
Product types include tungsten/copper (WCu) submounts with super-sharp edges (<5µm radius), allowing precise mount-edge positioning of laser diodes. WCu inserts brazed to solid copper bodies maximise heat-sinking while minimising expansion mismatch between carrier and laser die.
Submounts in aluminium nitride (AlN) with photo-patterned metallisation provide high-precision circuits. Metal structures can be tailored to meet individual requirements for soldering, wire bonding, electrical and thermal performance.
WCu- and AlN-style mounts selectively coated with a thin layer of AuSn solder allow accurate and consistent mounting of the laser die. Strict maintenance of metal coatings and solder alloy consistency ensure optimum reflow results.
Mounts for photodiodes on ceramics with wrap-over conductors are also available. Circuits can be defined on multiple faces allowing greater interconnect flexibility, and ceramic can be precision-machined for the greatest functionality.