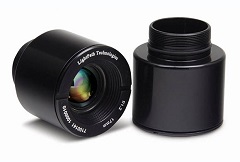 LightPath develops, designs and manufactures infrared optics made from moulded BD6 chalcogenide glass, which is ideal for use in MWIR and LWIR thermal imaging systems.
Advantages of LightPath's BD6 include high transmission, low cost and weight, optical athermalisation, as well as being able to be moulded, polished or diamond-turned, and featuring no germanium content.
LightPath's high volume production experience brings expertise and knowledge to customer projects as quantities for infrared optics continue to grow.