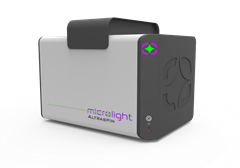 Microlight3D will demonstrate Altraspin, a new compact 3D-printer for producing highly complex micro-parts with sub-micron resolution.
Altraspin prints micro-parts with resolution 100x smaller than a strand of hair for applications requiring exact precision and a high quality surface finish. These include creating micro-optics, micro-sensors or printing shapes that fit inside microfluidic devices. It is also suited to metamaterials, cell culture, tissue engineering, microrobotics, micromechanics or surface structuration.
Altraspin responds to manufacturing demands for more customisation and the rapid prototyping of micron-sized parts that are not constrained by their geometric or organic shape. It extends user choice in the materials available for 3D microprinting by offering a wide range of polymers and biomaterials. It features a new TPP slicing tool, high-writing precision and resolution and high-writing speeds for complex 3D structures. It is compatible with any CAD models and files and its compact design is suited to laminar flow cabinets, clean-room or sterile environments, which prevent the contamination of wafers.
Discover Altraspin at Microlight3D booth #8136 at BiOS Expo.