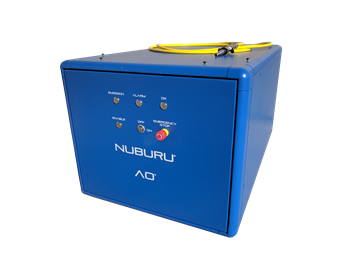 Following the previous introduction of the AO-150 industrial laser, Nuburu will introduce a highest-brightness high-power blue laser at booth 103, hall b3.
The new 500W 450nm AO-500 blue laser expands metals processing by leveraging both innovative systems engineering and the inherent physical advantages of blue light absorption. Early adopters have already demonstrated the blue laser's ability to efficiently process copper, aluminum, stainless steel and other industrially important metals.
The AO-500's high-brightness performance (beam parameter product) enables high power density at the target material, producing defect-free and spatter-free copper welds at a higher speed and penetration than any alternative welding method. The new laser also offers the demonstrated ability to address the notoriously difficult challenge of welding dissimilar metals with minimal formation of undesirable intermetallics.