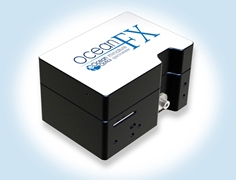 Ocean Optics will be showing its modular spectrometers, application consultation and technical support backed by the experience of thousands of successful applications.
Our latest innovation is the Ocean Fx spectrometer, which offers high-sensitivity CMOS detector performance, acquisition speed up to 4,500 scans per second, and onboard spectral buffering to ensure data integrity during reaction monitoring. Ocean Fx is ideal for high-speed sorting and grading in production environments, measurement of transient events like solar simulator flashes, and reaction monitoring for drug development and similar applications. 
Anyof Ocean Optics' off-the-shelf spectrometers can be integrated into OEM products, making the transition from lab to market rapidly and cost-effectively. The modular nature of our products allows users to source at the component, subsystem, or system level, depending on the need and the stage of product development.