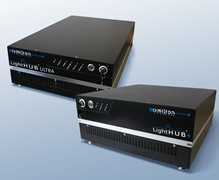 Omicron's LightHUB+ and LightHUB Ultra laser light engines will be exhibited at booth 2163. The systems can be equipped with one to six (LightHUB+) / seven (LightHUB Ultra) laser modules of different wavelengths from UV to the near IR range and offer fast analogue intensity modulation with up to 1,5MHz and digital full ON/OFF modulation with a switching time of <1µs for each channel. The individual laser modules can easily be exchanged and added by the user. Hence the systems can be adapted to changing application requirements and are future-proof.
With a direct and active temperature control of the laser modules and the complete laser bed it is now possible to keep the power level ultra-stable. This feature guarantees reliable and repeatable results in the customer's applications. 
The light of the various lasers is combined and coupled efficiently into one (LightHUB+) or up to two (LightHUB Ultra) polarisation-maintaining single-mode broadband or multi-mode fibres. The LightHUB Ultra additionally offers the possibility to integrate a fast fibre-switch or fibre splitter with defined splitting ratio.
Laser modules with up to 300 milliwatt of optical output power and wavelengths between 375 and 850nm can be used in the LightHUB systems. Optional clean-up filters and a fail safe laser safety shutter can be directly installed in the system to adapt the LightHUB system to the customer's application and safety requirements. High-impedance modulation inputs ensure easy interfacing to external devices like cameras, microscopes or DAC cards.