Optoelectronics Research Centre (ORC)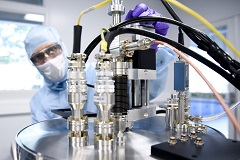 The Optoelectronics Research Centre (ORC) at the University of Southampton will be at booth LP10 to showcase its capabilities in silicon photonics, specialty optical fibres and advanced materials, and demonstrate its high durability non-toxic chalcogenide glasses from the visible to the thermal infrared LWIR band.
The ORC is also supporting the popular Enlighten Conference on Wednesday 10 October, hosting 'Industry & Academia: Working Together in Silicon Photonics', which aims to debate how academia can assist industry in the update of silicon photonics devices and systems. The University's Cornerstone Project: UK silicon photonics fabrication capability, will also be part of the conference.