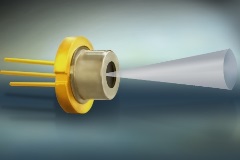 OSI Laser Diode (LDI) will present the CVN 63-90ECL, a 905nm pulsed laser with an enhanced far field divergent beam. The technology device's far field beam pattern features equivalent divergence values for the fast (perpendicular) and the slow (parallel) axes of emission. The far field pattern delivers higher coupling efficiency into standard spherical lens systems, making it ideal for defence tasks. 
The RoHS-compliant laser diode with integrated micro lens is hermetically sealed in a rugged, 9mm package.  The device, with its robust survival capability, can operate in extremely harsh environmental conditions and is perfectly suited for demanding applications such as field-deployed range finders.  
OSI LDI's pulsed laser operates between 895nm (minimum) and 915nm (maximum), with a typical responsivity of 905nm.  Other features include a spectral width of 8nm, peak power of 75W, a pulse width of 100nS, and drive current at 30A.  The storage temperature ranges from -40°C degrees to +85°C, and operating temperature is 25°C.
South hall, booth #551.