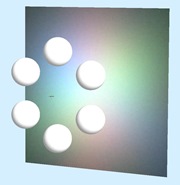 Advances in graphical processing unit (GPU) technology have made massively parallel computing accessible on nearly every PC. Photon Engineering has merged its opto-mechanical raytracing software with the power and scalability of GPUs to bring optical designers its latest product, Fredmpc.
With Fredmpc, calculations finish orders of magnitude faster than with conventional CPU raytracing. Users will spend less time waiting and more time answering engineering questions and performing trade studies.
Please visit Photon Engineering's booth (hall 3, B20) to hear more.