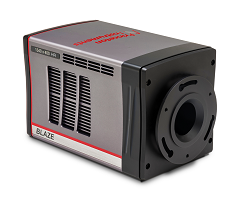 At booth 727 Princeton Instruments will showcase the new Sophia 4096, a deep-cooled, large-format CCD camera with 15µm pixels. Sophia cameras are ideal for applications ranging from astronomy to fluorescence imaging.
Additionally, the firm's Blaze CCD cameras for spectroscopy will be featured at the booth along with its IsoPlane spectrographs. Blaze provides up to three times higher NIR sensitivity and low dark current.
Furthermore, NIRvana SWIR cameras will also be on show, which are the only scientific-grade InGaAs cameras on the market that are specifically designed for quantitative NIR/SWIR imaging and spectroscopy applications – according to the firm.
Lastly, Princeton Instruments encourages visitors to ask about its Fergie aberration-free spectroscopy system, which offers high performance and exceptional versatility, and enables experiments to be set up in just minutes.
Princeton Instruments also provides, sCMOS, ICCD, EMCCD, emICCD, and x-ray cameras; in addition to other imaging systems, as well as optics and coatings.