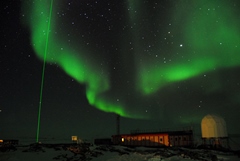 Visitors to Quantel and Keopsys booths (8742 and 417) will be able to see both groups' range of diodes modules and laser solutions. 
Quantel and Keopsys groups are merging their resources into a new laser group to offer an extended product portfolio in addition to their existing laser solutions for a variety of application fields like: biotech and medical, material processing, defense, scientific instrumentation, LIBS, laser pumping, fluid dynamics.
Quantel and Keopsys groups are also consolidating their activities in the lidar application space, with a full range of solutions including: integrated high power diode solutions for automotive and surveillance needs; ultra-compact fibre lasers for wind sensing, range finding, and 3D scanning; high energy flash or diode pumped solid-state lasers for atmospheric lidar and environmental measurements; and various customised solutions for defence, space and high-end applications.
Image credit:LIDAR de Dumont d'Urville © C. FRESSER -IPEV