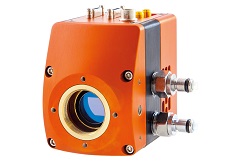 Raptor Photonics will be exhibiting some of its high performance, industrial-grade and extremely rugged ultra-low light digital and analogue cameras at booth B16.
The firm specialises in complete cameras and core engine solutions using CCD, EMCCD, SWIR and LWIR sensor technology. For example, its SWIR cameras use indium gallium arsenide (InGaAs) sensors and are capable of imaging from 400nm through to 1,700nm. The extreme low-light capability of Raptor's cameras makes them ideal for day/night surveillance, homeland security and scientific markets.
Raptor Photonics also offers a range of sensors with different resolutions (320, 640 and 1,280 pixels) along with cooling, readout and interface alternatives, providing a range of options for visible and SWIR imaging. The firm's low-noise electronics and ROIC design ensure that the images on its cameras are exceptional both quantitatively and qualitatively.