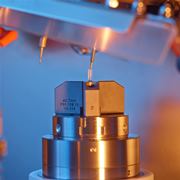 Satisloh, a specialist in manufacturing solutions for the precision optics and ophthalmic markets, will present its latest solutions and services, which help customers produce precise and high quality lenses for security, defence, medical, and laser applications.
Visitors to the Satisloh stand will see machine technology developments for high-end optical components production in the SPM-200 and SPS-200. Software solutions for simplified operation and directly connecting measurement equipment to machines will also be demonstrated.
A new automation system HS-200 will be shown, which is designed to increase optics manufacturing productivity; for processing centres, SPM-125/SPS-125, SPM-200/SPS-200 and C-300 centering machines will be on display. The SP-100 provides insights in the sector of coating.
For micro optics production, Satisloh will showcase the C-50 centering machine with an optimised handling system. As a technology innovation, the SPM-10/SPS-10 will be showcased.
The new SPM-10 and SPS-10 are the next generation of grinding and polishing CNC machines for micro optics, which can produce smaller workpieces than ever before and with greater precision and better repeatability. These are ideal for companies that are looking to produce micro lenses down to the millimetre range and below as well as micro optics aspheres, up to 10mm.
Hall 3, stand E62.