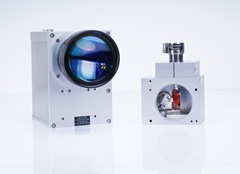 Scanlab will be featuring its soon available intelliScanse 20 and 30 scan head systems, with 20 and 30mm apertures for a larger working field. Their integrated digital encoder technology ensures the highest dynamics along with high resolution and long-term stability. These factors make the systems especially interesting for demanding applications such as 3D printing, micro-structuring and micro-processing. An attractive price/performance ratio also underscores the systems' suitability for efficient industrial usage.
The intelliScanse 20 and 30, both equipped with high-performance dynAxisse L galvanometer scanners, can fulfill the market's demand for large-aperture systems. These are designed to enable larger working volumes with unchanged spot sizes. The integrated digital se-encoder technology guarantees outstanding precision and dynamics while enabling maximum throughput.
Scanlab will be located in the south hall, at booth number 2025.