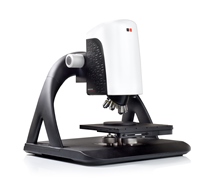 Sensofar Metrology (booth 3404) will demonstrate its 3rd generation non-contact 3D optical profiler microscope system, the S neox, which has been purposely-designed for sub-nano, nano and micro-scale measurement, with advanced inspection and analysis capabilities.
The new S neox outperforms its predecessor in terms of design, functionality, efficiency and performance. But above all, the most impressive feature to highlight is the speed. It is faster than the previous S neox and is also faster than existing optical profilers.
S neox achieves vertical and lateral resolutions of 0.01nm and 0.1µm, respectively, using Sensofar's '3-in-1' sensor head technology approach, which is, three measurement technologies providing excellent versatility across a broad range of scales and structures – focus variation for shape and form, interferometry for sub-nanometric roughness, and confocal for critical dimensions that require high lateral as well as vertical resolution.