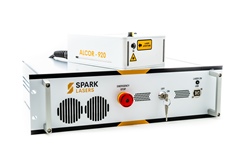 Spark Lasers (booth 1059E) will present its Alcor series of QCW femtosecond fibre lasers, which deliver high average powers of up to 2W with <140fs pulses at both 920nm and 1,064nm.
Available through Photonic Solutions in the UK and Ireland, the ultra-compact, robust and air cooled Alcor is a plug and play laser, with <5 min set up time and an intuitive user interface that allows users to focus on their experiments, not on laser maintenance and alignment.
With the option of GDD pre-compensation down to -30 000fs2, F-sync for synchronisation with any third-party device, custom wavelengths from 1,030nm to 1,064nm and even shorter pulse duration of <120fs, the Alcor is the system of choice for multi-photon microscopy. With all these features in a compact and robust footprint measuring 235 x 144 x 83.85mm3 and weighing less than 5kg, it is no surprise this femtosecond fibre laser has made the final of the SPIE Prism awards in the scientific lasers category.