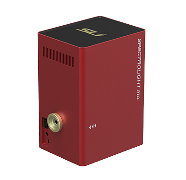 A new product series from Spectrolight called FWS Auto Poly will be launched during SPIE Bios 2019 at Bios booth 8246. The Flexible Wavelength Selector (FWS) Auto Poly employs Spectrolight's TwinFilm technology to deliver the tuneability and adjustable bandwidth of a grating monochromator, together with the imaging advantages of a circular aperture filter.
A single device of the FWS Auto Poly series can cover a wavelength tuning range of approximately 500nm, and offers simple alignment and automatic compensation of beam offset. FWS Auto Poly models feature complete software control of wavelength and bandwidth via a USB link and a simple software interface.
Applications for the FWS Auto Poly include hyperspectral imaging, fluorescence microscopy and machine vision, as well as OEM opportunities in life sciences instrumentation for flow cytometry and DNA sequencing. The FWS Auto Poly series will debut with six models covering the visible, UV, and custom wavelength ranges.