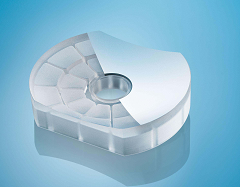 SwissOptic, a Berliner Glas Group company, will be presenting its high-precision concave and convex aspheres with diameters ranging from 12 to 300mm made from materials such as optical glass, quartz glass, Zerodur, crystalline materials and metals. 
One of the company's specialties is the development and production of lightweight structured aspherical mirrors. Lightweight structuring can reduce the weight of larger mirrors by up to 90 per cent, which is a key advantage for many systems, especially those airborne. 
SwissOptic offers whole process chains, from system development and optical design over the production and coating up to the qualification of entire optical systems, including in-house quality assurance. This enables the company to fulfil orders and customer requirements fast and flexibly.