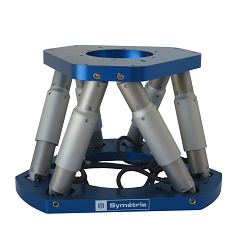 Symetrie will be displaying its new Puna hexapod at its booth, designed to meet precision positioning requirements in research and industrial applications.
The Puna hexapod can position up to 20kg payloads with a submicron resolution, and offers travel ranges of 60mm in the x and y axes and rotations up to 40° in the z axis. The hexapod can meet limited budgets while offering a resolution of 0.5µm in translation and 5µrad (0.0003°) in rotation. 
To simplify the design, Puna's motor is mounted in line and includes an incremental rotary encoder. It is 200mm tall in its mid-position and operates in any direction: vertically, horizontally or in any other angle.