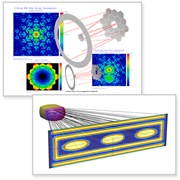 Synopsys' Optical Solutions Group (OSG) is a developer of optical design and analysis tools, with Code V imaging design software, LightTools illumination design software, LucidShape products for automotive lighting, and RSoft products for photonic and optical network design.
At Photonics West, Synopsys will exhibit Code V, LightTools, and RSoft software solutions. Code V has powerful capabilities for lens optimisation, analysis, tolerancing, beam propagation and coupling efficiency.
LightTools is a 3D optical engineering and design software product that supports virtual prototyping, simulation, optimisation and photorealistic renderings of illumination applications.
RSoft products provide a full range of design, optimisation and planning tools for optical communications, as well as award-winning solutions for optoelectronics components and subsystems.
OSG is also an independent supplier of optical systems design services, with more than 5,000 completed projects in imaging, illumination, and optical systems engineering.