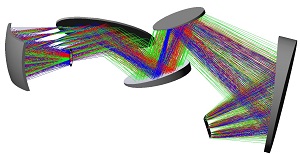 Visitors to booth 1259 will be able to learn how Synopsys' CODE V imaging design software can help them accelerate the delivery of superior imaging optics.
With superior optimisation, tolerancing and fabrication support, CODE V helps users design imaging optics that meet high-quality specifications at minimised costs. The latest version of the software includes new features such as enhanced optimisation constraints, encrypted multilayer coating prescriptions, and 2D-Q freeform surfaces to increase optical engineering productivity, support cost-to-manufacture savings, and give reliable results in less time.
Synopsys will also be able to inform visitors about its LightTools illumination design software, its LucidShape products for automotive lighting, its RSoft products for photonic and optical communications system design, and its PIC Design Suite for photonic integrated circuit layout and verification.