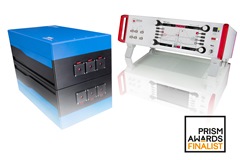 Toptica Photonics will demonstrate its latest innovations for industrial metrology and quantum technology at booth 641. Dedicated laser solutions for biophotonics will also be shown at Bios, booth 8641.
The FemtoFiber ultra 920 is the new member of Toptica's third generation ultrafast fibre lasers for spectroscopy and microscopy. The system delivers laser pulses with a pulse duration of less than 100fs at a central wavelength of 920nm, with more than 1W of average output power. The cost-effective and maintenance-free design of the laser is optimised for OEM integration featuring a compact and cold laser head that is connected to a 19 inch rackmount control and supply unit.
For molecular spectroscopy and quantum optics, Toptica's new and powerful DLC TOPO – Prism Awards 2019 finalist – delivers wide tunability, narrow linewidth, and hands-free digital control over the full 1.45 to 4.00μm spectral range. A wide mode-hop free tuning range up to 300GHz enables visibility of full spectroscopic signatures, while a 2MHz linewidth reveals narrow atomic and molecular features.