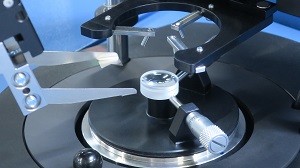 Trioptics will be giving an overview of its complete product range at booth 1459, which covers the whole spectrum of optical measurement technology for every manufacturing step in optics, with test systems for both R&D and production – from the refractive index measurement of optical components to lens system testing and assembly and MTF testing and camera module test systems.
Visitors to the booth will be able to experience robot-assisted production in optical centration alignment and alignment turning. They will also be able to learn how to produce and test camera modules efficiently, learn about enclosed energy measurement solutions for 3D-scene recognition systems, and be introduced to latest technologies as rotation-free centration measurement and image quality testing for VR and AR applications.
Furthermore, visitors can check out Triptics' goniometers and electronic autocollimators for high-precision optical angle measurement as well as systems for lens thickness and wavefront measurement.