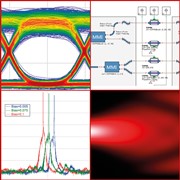 Visitors to VPIphotonics' booth can learn about library extensions to VPIcomponentMaker Photonic Circuits, which provide circuit-level support of a Process Design Kit (PDK) for various integrated photonics technologies.
These pluggable toolkits support a cost-effective generic foundry approach for application-specific photonic integrated circuits design. Within this approach, the designer can choose photonic devices from a fixed list of so-called building blocks (BBs) supported by the individual foundry.
The seamless integration with photonic layout design tools allows users to specify physical locations and orientations of BBs of standardised PDKs on the final layout. Designers can gradually elaborate its layout, easily incorporating requirements such as adequate layout connectivity, packaging, and functional specifications.
VPIphotonics' integrated design solutions allow users to combine graphical schematic capture, including automated parameter sweeps and optimisation, even for parameters that affect the circuit layout, and automated waveguide routing of PICs utilising a single or a combination of different technology platforms.