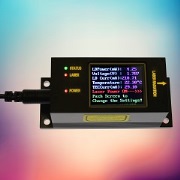 World Star Tech, a firm specialising in manufacturing ultra-compact energy efficient laser assemblies with high stability and low noise, will be exhibiting products including UV-Vis-IR laser diode assemblies without fibre connectors; TEC (thermo electrically cooled) lasers; a portable laser marker for metals and plastics; and a USB Bluetooth laser at booth 5363.
The firm's goal is to introduce highly compact and efficient lasers that will enable new measurement and sensor applications. In addition to the exhibited products, its product line also includes RGB laser diode assemblies without fibre connectors, and uniform line lasers for scanning and machine vision applications.
World Star Tech is also a laser diode distributor for Osram and Ushio laser diodes, supporting 400nm, 450nm, 520nm, 635nm, 650nm, 658nm, 690nm, 705nm, 730nm, 830nm, 850nm and 1,064nm with various power options.