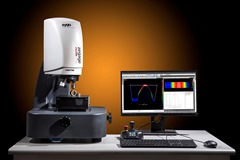 At booth 1342 Zygo's ZeGage Pro and Pro HR 3D Optical profilers will be on display. They are robust, affordable, easy to use, and deliver surface data in seconds. 
These latest generation ZeGage products use Zygo's coherence scanning interferometry technology to produce non-contact topography, roughness, and waviness on virtually any material to ISO 25178/4287 standards. The upgraded high speed 1.9-megapixel camera and new Smart Setup Tool have been designed to optimise throughput and region of interest. With Smart Setup, surface finding, light level, and scan range are all automatically configured for a complete measurement configuration in less than one minute. 
All ZeGage Pro systems are also equipped with Zygo's exclusive SureScan technology which eliminates the need for vibration isolation and moves metrology out of the lab and onto the production floor. Paired with the firm's Mx software for analysis and automation, a complete 3D profiling solution has never been so simple.