Building an open platform for photonic integrated circuit design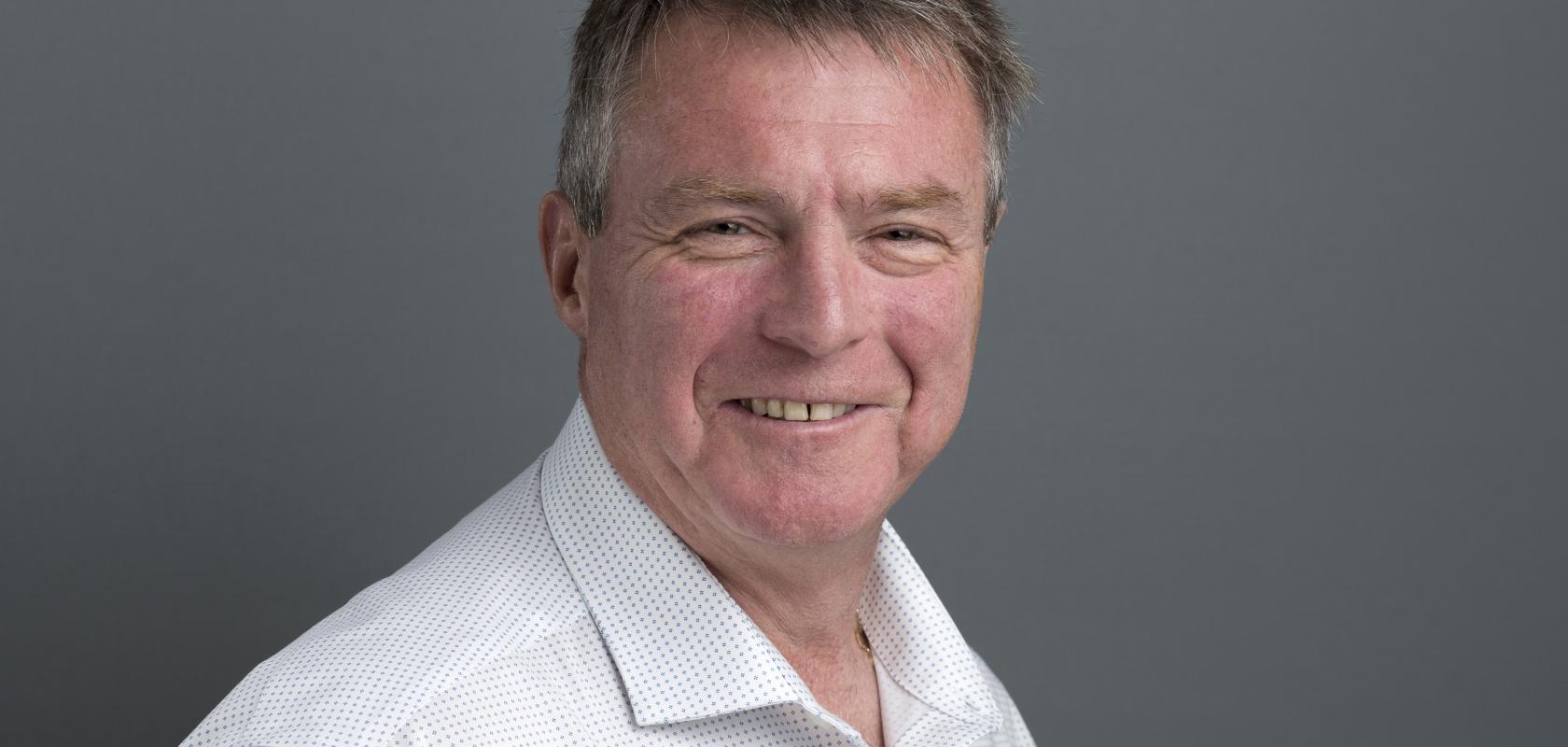 OpenLight, which launched as an independent company in June last year, is developing an open silicon photonics platform with integrated lasers for customers designing photonic integrated circuits (PICs) for datacom, telecom, lidar, healthcare, HPC, AI, and optical computing applications.
The firm made two big announcements at OFC in San Diego this year: a Process Design Kit (PDK) Sampler to accelerate component testing, and a 224G InP-based Modulator to advance PIC designs for the datacom market.
OpenLight CEO Dr Adam Carter spoke with Electro Optics to take us through the two announcements, which according to him led to 2023 being his busiest OFC in 25 years of attendance.
He also spoke on some of the future markets that will drive the uptake of PIC technology. 
Increasing customer confidence in photonic integrated circuits
Carter began by explaining that, for the PICs developed by most firms, 'active' components, such as lasers, modulators and optical amplifiers, are usually external to the chip. Laser light is coupled into the chip and handled via 'passive' components – such as waveguides, splitters and receivers – to perform the application the PIC is intended for. The light is then coupled out of the chip. "What differentiates us from other PIC firms today is that we integrate all the active components into the silicon," he said. "This means the laser light still has to be coupled out of our chip, but it doesn't have to be coupled in. That saves on manufacturing and assembly costs, as external lasers don't have to be aligned to the waveguides. We're the only company that does this right now – we have strong IP around the laser process and how to bond the silicon and the III-IV material together.
This takes us to the first of the two announcements made at OFC, the PDK Sampler.
"This is a die-level PIC intended to increase customers' confidence in our designs," said Carter. "It contains every PDK component available through our open platform, and enables customers to test PDK elements in their own lab and validate models to enable first-pass success on the PH18DA platform of our partner, Tower Semiconductor (soon to be acquired by Intel). Customers can optically and electrically probe each individual element on a piece of silicon and then check it against the model that's in the PDK. The PDK Sampler will therefore provide a shortcut for those wanting to test individual PDK elements immediately by getting direct lab data prior to taping out a custom PIC design."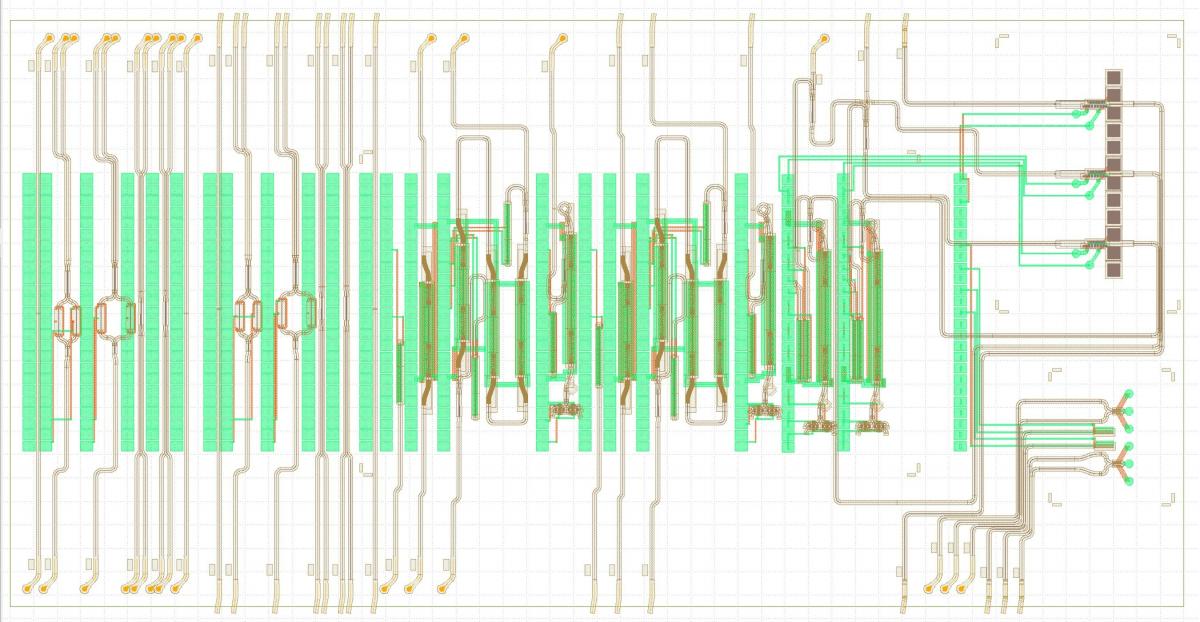 OpenLight's Process Design Kit (PDK) Sampler enables customers to test PDK elements in their own lab (Image: OpenLight)
The PDK Sampler can be ordered directly from OpenLight and accessed via software tools such as Synopsis, Cadence and Luceda.
"This development will aid our mission in providing industry with the right design tools and accelerating the use of PICs at scale in a wide variety of markets and applications," said Carter. 
Doubling PIC speeds with InP-based modulators
The second announcement made by OpenLight was the firm showing its ability to drive a laser at 200Gb via a new InP-based modulator, also designed for Tower Semiconductor's PH18DA platform.
"Data centres are rapidly scaling the amount of bandwidth per port in a switch," said Carter. "While today the majority of ports are at 400Gb, they're now migrating to 800Gb per port and, in the future, will go to 1.6Tb and even 3.2Tb. For the way conventional optics and pluggable transceivers are assembled, this is going to be extremely challenging. Far more integration is needed, and so this modulator is really enabling that first pass of integration to go forward and support this rapidly increasing bandwidth per port."
The new modulator can be used to double the speed of PICs without increasing their cost or size. "For example, we already have a PIC that uses 8 x 100Gb channels, all we have to do is change the dimensions of the modulator and we automatically have an 8 x 200Gb (1.6Tb) PIC available," explained Carter.
OpenLight is now offering early access packages for the new 224G modulator for customers that are looking to use it in their PIC design. "Evaluation vehicles will be made available later this year for customers to enable testing of the new modulator," Carter added.
Future-proofing the silicon photonics ecosystem
These two announcements will both be key to designing PICs targeting future applications, such as those wielding artificial intelligence and machine learning, according to Carter.
"These applications will drive even bigger optical connectivity requirements going forward – requirements that dwarf those of current data centre networks," he said. "Just one data centre alone supporting such applications will require millions of optical interconnects, not just to facilitate AI applications in real time, but to also enable the exceptional amount of data storage required in this field."
Carter said the silicon photonics ecosystem that will support this new AI era is already beginning to form, and that certain customers will already be invested in specific silicon photonics processes and may want to integrate active components without having to switch foundries: "This is where we come in – capable of offering them maximum choice after having formed partnerships with various foundries across the globe."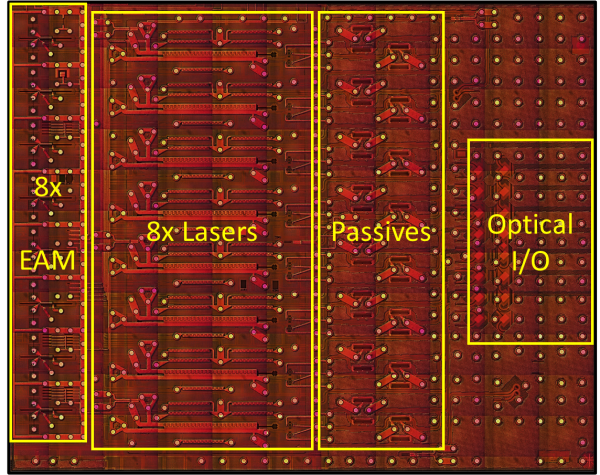 OpenLight's 800G DR8 PIC features integrated laser technology and utilises 8 x 100Gb channels (Image: OpenLight)
It's not just big foundries that OpenLight is looking to work with in building its ecosystem. "Design houses and startups spinning out of universities, particularly in Europe, are showing great strength in this field of technology," said Carter. "We're therefore looking to licence designs coming out of these entities and port them into our PDK. If they've got a component we don't have, that from a simulation point of view looks good, then there's no reason why we can't work with them.
"That's really how open we want to be. We want our customers to have as much breadth of components as possible in our library. We will only be as successful as our component library is strong."
Carter said this open platform and ecosystem will ultimately enable companies that don't necessarily have silicon photonics design teams to have free access to a PIC component library. "They can either design the PICs themselves, or we can do this via a service," he said. "We'll then guarantee that design and produce it at scale via one of our foundry partners. This model is actually very new, and what we spent most of the time doing at OFC was really helping people understand what that model looks like."