In the October Product Focus, we take a look at the latest products for positioning optical components and systems
ACS Motion Control has launched a multi-axis motion controller that includes a high-speed EtherCat-to-EtherCat bridge to address the needs of highly demanding modern equipment. The SPiiPlusES combines ACS' powerful motion controller capabilities with an external EtherCat network master controller. The SPiiPlusES is used both as a node in any EtherCat Automation Controller network, and as an EtherCAT Master controlling up to 64 axes and thousands of I/O.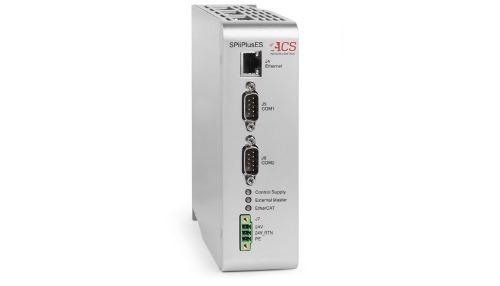 -
Aerotech´s QFocus QF-50 piezo nanopositioning stage is designed for microscope objective and optics positioning. It offers 400μm closed loop and 450μm open loop travel, high speed, 0.01 per cent linearity, sub-nanometre resolution, and 4nm bidirectional repeatability.
The QF-50 accommodates optical instruments and next-generation laser micromachining applications. It is ideal for optical positioning applications requiring high precision and throughput coupled with long travels.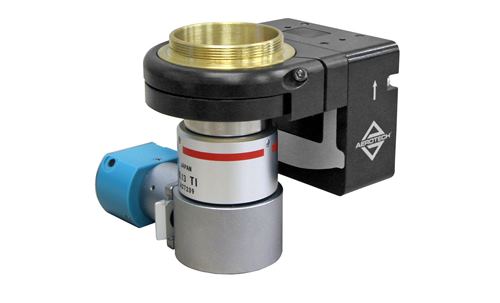 The QF-50 is guided by precision flexures optimised using finite element analysis for excellent stiffness and resonant frequency to enable high process throughput and fast closed-loop response.
Optional closed-loop feedback using a unique capacitive sensor design allows for sub-nanometer resolution and high linearity. Unlike foil strain gages or piezoresistive sensors, capacitive sensors provide a direct measurement of the positioning carriage for superior accuracy and repeatability.
When coupled with Aerotech´s Q-series controllers and drives, the QF-50 demonstrates sub-nanometer positioning resolution and in-position stability (jitter) while maintaining high positioning bandwidth.
The QF-50 is available with threaded adapters to fit most microscopes and objectives. The microscope turret mounting allows fast and simple positioning at any desired orientation.
Nanopositioning of high loads, such as detectors or cameras can be a difficult task. In addition, many applications require large travel ranges, but have limited installation space available. Attocube's new ECSz3030 piezo drive has been developed to meet these demands: it offers an orientation independent force of 8N over a travel range of 5mm, and requires minimum installation space.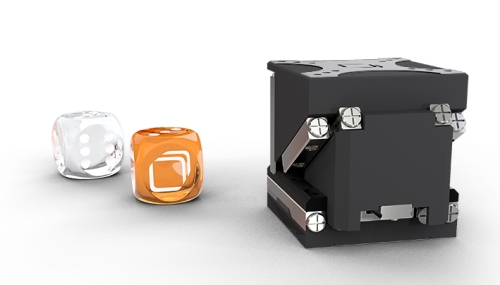 The ECSz3030 is the perfect choice for lateral motion setups, and can be easily combined with the whole range of rotators, goniometers and linear positioners of Attocube's Industrial Line portfolio.
To facilitate integration of its diffractive optical element (DOE) products, Holo/Or has developed the new DOE Tuner, a variable 0.8X-1.2X zoom module that can be used to fine-tune the laser beam of micromachining applications before or after the DOE.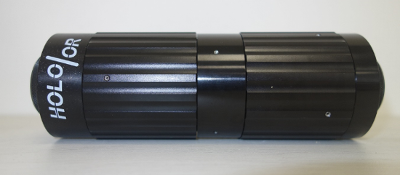 Possible uses include: adjusting the diameter of an input beam or the shape size for top hat beam shapers; changing the separation between spots in beam splitters; and tuning spot sizes at the focal plane. 
The DOE tuner is a compact, 15cm-long module with standard C-mount adapters, making it easy to integrate into existing systems. It can support up to 7mm input beams at max magnification and is currently offered as a standard item for 355nm, 532nm and 1,064nm wavelengths, while being easily customisable to fit other wavelengths.
The MH01 range of pre-mounted PSDs from Laser Components has been a popular choice for users who want an accurate, fast, and easy to use position detector without the hassle of soldering and breadboards; however, there was always the drawback concerning limited size of the active area.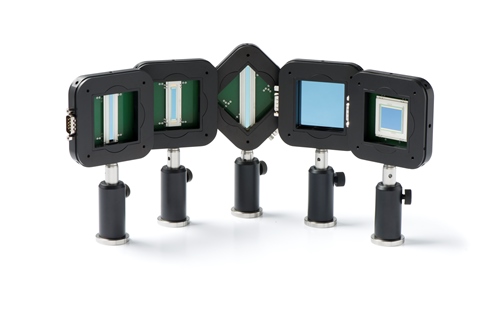 To address this, Laser Components has released the MH02 range of premounted PSDs with one-dimensional sizes of up to 60mm and two-dimensional sizes of up to 45 x 45mm². These larger devices feature the same DSUB9 connector and pin configuration as the smaller MH01 series and are backwards compatible with the Seepos signal processing system and software, as well as dedicated amplifier boards.
The 84 x 84mm² mechanical housing is designed to accept 2 inch filters, and for those using optical benches the housing is compatible with standard optomechanical components such as posts, cages, and stages. The PSDs are fully customisable.
The strut based mounting system from McPherson minimises vibration and allows easy, precise position adjustment of a wide variety of hardware. It can even work inside high vacuum or ultra-high vacuum (UHV) systems. The six struts provide very solid (seismically adequate) support. When sub-millimetre alignment is required, the six-strut system is a proven way of rigidly supporting instruments and fixtures with precise adjustability.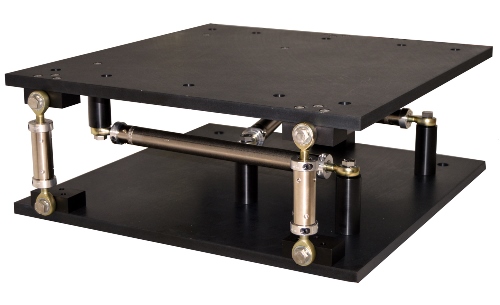 The strut mechanical positioner has up to six degrees of freedom: translational, X, Y, Z and angular, pitch, roll, and yaw. It consists of a support system made up of adjustable struts, and provides support without adding stress or distortion. The struts have ball joint ends and an orthogonal arrangement to simplify position adjustments. The result is a strong, rigid system that allows easily positioning, even heavy equipment, in all six degrees of freedom.
--
The new PIMag V-508 from Physik Instrumente is a compact precision linear stage able to adapt itself to various different requirements thanks to its modular construction principle.
With travel ranges of 80, 170, and 250 mm, different drives, and measuring systems with resolutions into the sub-nanometre range, the flexible linear stage is not only suitable for laser engraving and high-resolution laser marking, but also for applications in measuring technology and photonics or for precision scanning in industry and research.


The linear stages have a width of 80mm, a height of 25mm and can also be combined to multi-axis systems if required.
Three-phase linear motors are the driving force behind this flexible linear stage. They dispense with mechanical components in the drivetrain and transfer the drive force directly to the motion platform without any friction. This makes velocities up to 1m/s and accelerations up to 5m/s² possible.
Crossed roller bearings with anti-creep system ensure high guiding accuracy. Ironless motors are used for applications that require particularly jerk-free and smooth running. In contrast, motors with an iron core are suitable for high forces and acceleration.
An improved, low profile micromanipulator from Siskiyou facilitates the positioning of multiple probes in the space-constrained and often crowded space around a microscope sample.

The MX130 series are three axis linear translation stages that provide independent coarse and fine adjustment of the dedicated manipulator axis, as well as manual independent adjustment of the other two orthogonal axes. Total range of motion along the probe axis is 42mm, with a fine motion range of 3mm at a resolution of 5µm. Both right and left handed configurations are available to simplify the use of multiple probes and electrodes. In addition, the MX130 includes a probe clamp with a 180° rotation feature that allows the probe tip to be rotated out of the experiment and returned with kinematic precision.
The basic MX130 models feature manual adjustment of the manipulator axis. In other MX130 models, optional remote operation is supported through the use of a Siskiyou precision hydraulic actuator. 
The MX130 series are part of Siskiyou's range of modular optomechanical components, and are compatible with a wide variety of other products.
The new Light Aligner from Spectrolight is a simple to use tool that solves the challenge of aligning a light beam through an optical system constructed on a breadboard or optical table. The Light Aligner is an anodised metal ruler with precision engraved fiducials and a series of 2.5mm-diameter through holes. It utilises a magnetic base that holds the ruler in a vertical orientation and enables its stable, temporary placement on any optical table, breadboard or ferrous metal surface.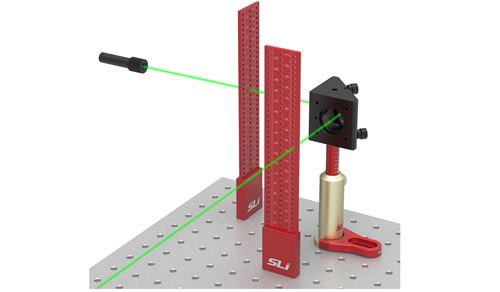 In use, the optical beam is passed through one of the holes at the appropriate height, and then the entire unit is moved as necessary to various positions in the optical system to verify that the beam alignment is being maintained.
The Light Aligner is available either with or without registration pins on its base, allowing for either complete freedom in its placement, or precise registration of a beam with the mounting hole pattern on the table or breadboard.
The Light Aligner also uses a modular approach to provide maximum utility; a bolt-on extension doubles the height with no loss of precision. Both metric and imperial versions are available, with standard lengths being 220mm and 8.6 inches.