Lighting enables new car functions

Matthew Dale discovers how high-resolution LED matrices and blue lasers are set to increase the functionality of automotive lighting
Automotive lighting has evolved continuously since the invention of the motorcar. The flames of the old acetylene lamps have long been extinguished with the arrival of the electric headlamp, which can be seen in the form of halogen and HID (high intensity discharge) lamps on the majority of today's vehicles. The past 15 years, however, has seen two new illumination technologies begin to light up roads with increased brightness and energy efficiency: LEDs and lasers. The latter was introduced to commercial vehicles in 2014.
At January's Consumer Electronics Show (CES) in Las Vegas, it was shown that these illumination technologies could soon be doing a lot more for vehicles than simply lighting the road ahead more efficiently.
German firm Osram, for example, was exhibiting an innovation called Eviyos. It's a solid-state active LED pixel matrix, capable of illuminating the road without dazzling oncoming traffic, while at the same time projecting high-resolution symbols – such as navigation prompts, distance warnings, or road condition warnings – onto the road for the driver or fellow road users to see. The first iteration of the technology, which will be available commercially this year, comprises a matrix of 1,024 individually controllable pixels on a single LED chip. The next iteration, under development and due for released in 2023, will feature 25,600 pixels.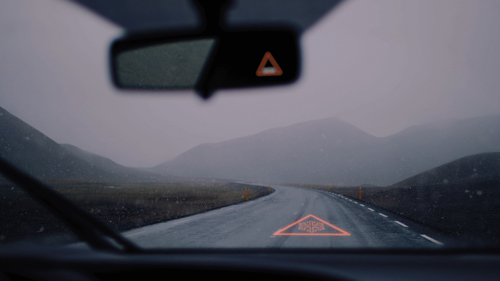 Osram's Eviyos system allows warning symbols to be projected onto the road
The technology offers the capabilities of a fine-resolution ADB (adaptive driving beam) system, which enhances a drivers' visibility while simultaneously reducing glare for other road users. As soon as sensors on the vehicle detect an oncoming vehicle or pedestrian, the appropriate pixels of the matrix are automatically switched off, meaning that light passes around the driver/pedestrian and not into their eyes.
This prevents the need to constantly switch between low beam and high beam settings on busy roads. The technology will be especially relevant for electric vehicles, according to Osram, as only the pixels needed for a particular situation are illuminated, meaning that only the necessary energy is consumed.
Laser headlights
US firm SLD Laser was also at CES showing its own take on automotive lighting, which rather than LEDs is based on laser technology. The technology was also discussed by the firm's co-founder, Paul Rudy, at the recent Photonics West.
Rudy remarked that while LEDs are energy efficient and long-lived, they do suffer from droop – a fundamental issue that affects all LEDs by limiting the amount of light that can be achieved from a chip.
'This means to get more light out of an LED, the chip must be made bigger, rather than just increasing electrical current,' he said.
This huge limitation for LEDs means they are fine for general illumination. However, to get a lot of light requires very large optics and assemblies. This creates limitations in fulfilling the maximum visibility that road lighting regulations allow in compact form factors. He explained it is not currently possible to illuminate the full stopping distance of a high-speed vehicle driving at night on a motorway with LED headlights, unless the headlight is exceptionally large.
The firm's laser lighting solution was therefore developed to address this issue.
'The technology enables the creation of eye-safe, high-brightness headlights that are highly efficient, cost-effective, and compact,' said Rudy.
'With it we have been able to completely eliminate droop, while being around a hundred times brighter than LEDs. We can achieve maximum visibility, most light on the road and maximum range, with the smallest possible headlight – which helps with the styling of vehicles.'
While many LEDs generate white light by directing blue LED light through a yellow phosphor convertor, SLD Laser's solution uses a GaN-based high-power blue semiconductor laser – developed by Nobel prize-winner Shuji Nakumura, another of the firm's co-founders – to excite a very small spot on a separate phosphor chip. 'This produces very high brightness incoherent white light, that can then be shaped using different optics and reflectors in all manner of high-contrast ways, since it's emitted from a point source,' said Rudy.
'We are working with automotive-certified, 1mm bi-axial MEMS mirrors, which can be used to shape the laser light in patterns with very high luminance per pixel. We're currently in the range of 0.5 to 1° resolution, with the expectation of being able to get to 0.1° resolution in the future.'
The solution can fit into a two-inch cube capable of providing full automotive lighting functionality in any pattern of light, according to Rudy. This includes the ADB functionality that can be used to minimise glare and maximise visibility.
In addition, he explained that the package looks a lot like that of an LED: 'It's a surface-mount device that is both electrically and thermally similar. This is very attractive for automotive integrators, as they won't have to dramatically change their processes in order to adopt our technology.'
As of last year, SLD Laser's headlight technology can be found on the road in BMW's M5 cars. Rudy noted that will also be available on vehicles from other top-tier automotive firms in the future.
One technology: three applications
In addition to providing exceptional illumination, at CES SLD Laser was also showing how its laser headlights can be used to perform communication and sensing applications.
'This is still in the development phase,' said Rudy. 'At CES we demonstrated 20Gbps optical links via lifi – capable of 2Gbps at over 50m range – in addition to very high-resolution sensing, all with white light headlight-style illuminators.' Lifi (short for light fidelity) is a wireless communication technology that uses light to transmit data between devices.
The light from SLD Laser's sources can be coupled into fibres that can then be used to either transport or emit the light. The latter option, known as emissive fibre, could be used for aesthetic lighting on the interior and exterior of vehicles, which could then be used to transmit data via lifi. Rudy added that SLD Laser's sources can also be deployed in tail and side lights, meaning data could effectively be sent in all directions from vehicles via lifi.
In addition to white light, SLD Laser's sources are capable of producing infrared light from the same chip. This means that during the day, if a vehicle's exterior lighting isn't being used, data could still be transmitted in the infrared. 'Currently, this infrared light is 850-905nm wavelength. However, we expect to be able to deliver this at 1,300-1,600nm, in the future,' said Rudy. 'This dual functionality from the same chip could not be achieved using LEDs. They are 1,000 times slower than lasers, they don't provide the required visibility or range, they require big optics and are not dual wavelength (as lasers can be).'
SLD Laser envisages its lasers being used in smart city scenarios, for example for communication between vehicles, or between streetlights and vehicles.
The sensing capabilities of the laser light sources could also have a dramatic impact on the future of mobility, according to Rudy. Not only could they be used to replace expensive and problematic forward-facing radar modules currently integrated into the bumpers and grills of vehicles (which Rudy remarked can be easily damaged or covered in dust and dirt) but eventually they could be used to deliver full lidar functionality for autonomous vehicles. According to the firm, the sources are already being designed into next-generation imaging systems for such purposes.
'To be able to offer illumination, sensing and communication with a single technology presents a very exciting opportunity, not just for automotive, but all mobility in general – such as drone-ground or ship-shore communication,' Rudy concluded.
Commercial products
ProPhotonix - Featured product
ProPhotonix partners with OEMs to provide complete LED and Laser solutions for their applications.
With over 25 years of experience in photonics, our team of LED and Laser experts provide a flexible range of high-quality LED lights and laser modules as well as custom solutions for more challenging applications.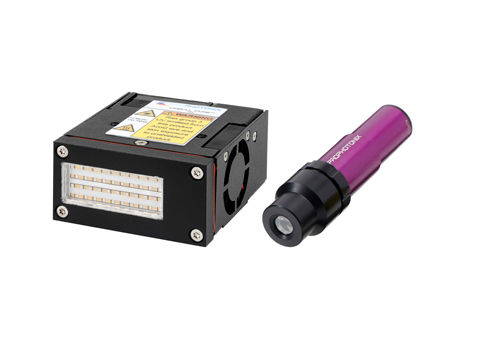 Configurable LED and laser products provide a reliable platform for applications, from machine vision to biomedical applications. Specifiers can select from a wide range of options to meet their optical, electronic and mechanical requirements. All of our LED and Laser products are built in our ISO-certified facilities to the highest quality standards for repeatable, optimum performance in your system.
Should your application requirements be more challenging or specific, ProPhotonix partners with OEMs to deliver custom LED and laser solutions. Our team of multidisciplinary experts will work with you from concept to completion to deliver on your technical and commercial requirements.
Learn more: www.prophotonix.com
-- 
Admesy - Featured product
The Admesy Asteria lightmeter is a high-speed measurement device suited for luminance, illuminance and flicker measurements. It is designed for in-line use with integrated calculating power for easy implementation and 
high-speed measurement in production settings, but is as well suited for R&D, quality control or installation use cases.
One example is the usage of the Asteria by the US Department of Energy as a reference flicker meter in their solid-state-lighting research.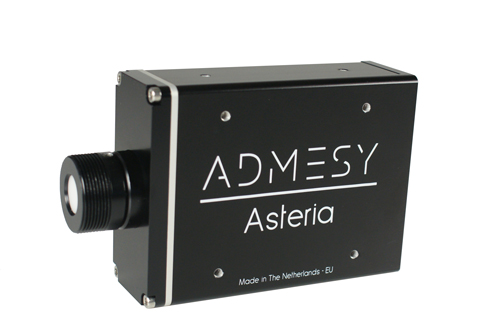 The Asteria is available in multiple configurations: the lens-based system is capable of measuring luminance (cd/m²) and flicker, its cosine corrector configuration allows illuminance (lux), luminous intensity (cd) and flicker measurements. Fibre versions are also available to connect to remote cosine correctors, lens systems or to connect to integrating spheres.
Besides the Asteria, Admesy offers a broad range of test and measurement instruments focused on light  and colour measurements. The measurement instruments are compact and robust devices, designed for accurate high-speed measurements with low maintenance needs.
_
Lambda Research Corporation - Featured product
TracePro combines Monte Carlo ray tracing, analysis, CAD import/export, and optimisation  methods with a complete and robust macro language to solve a wide variety of problems in illumination design and optical analysis. TracePro offers luminaire and illumination designers the most accurate and comprehensive design environment available. Luminaire design requires strict adherence to system performance criteria, including spatial and angular light distributions, uniformity, luminance, and spectral characteristics, along with aesthetic factors, such as lit and unlit appearance.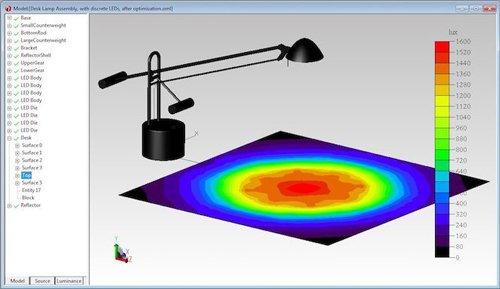 With TracePro, you have the power to accurately simulate the lit appearance of your product, and reduce costly trial-and-error prototyping. Instead, you can virtually prototype with photorealistic rendering. Whether you are designing an instrument panel, light pipes for switches or indicators, or automotive lighting, TracePro can accurately model the appearance of your design with photorealistic accuracy. Try TracePro for free now.