MicroLED chips on 300mm silicon wafers pave way for mass production
Samsung's microLED display, The Wall, has been demonstrated at shows such as CES but is not yet available commercially. (Image: Samsung)
French start-up Aledia has manufactured microLED chips produced on 300mm (12 inch) silicon wafers, which the company says opens up the potential for mass-producing microLED displays with commercially available processes and equipment.
The company, which developed its technology on 200mm (8 inch) silicon wafers over the past eight years, will produce the chips on both 200 and 300mm wafers. The larger wafers provide better economic payoff and cost-effective integration with smaller-node electronics, which are only available on 300mm silicon wafers. Aledia was spun out of CEA-Leti, a French research institute pioneering micro- and nanotechnologies, in 2012, and the work on 300mm wafers has been performed by combined Aledia and CEA-Leti teams.
'We believe producing microLEDs on large-area 300mm silicon wafers is a world first, and opens this technology to huge potential-volume-manufacturing capabilities,' said Giorgio Anania, Aledia co-founder and CEO.
'The larger size allows 60 to 100 smartphone displays to be made on a single 300mm wafer, versus approximately four-to-six using the present LED industry-standard, 4-inch sapphire substrate. Thanks to Aledia's unique nanowire LED technology (3D LED), this can be done with commercially available processes and equipment, since it uses standard-thickness (780µm) silicon wafers.'
MicroLEDs versus OLED displays
MicroLEDs are anticipated to be the next big display consumer technology, competing with organic LEDs (OLEDs). Both OLEDs and microLEDs are 'emissive technologies', creating pictures from arrays of shining LED pixels.
This differs from the best-established liquid crystal displays (LCDs), where the images formed must be illuminated by emission from behind by a backlight, typically an LED-powered one. However, OLEDs' brightness and efficiency in turning electricity into light are limited.
MicroLEDs bring the possibility of high-resolution emissive displays with the high efficiencies typical of LEDs, because microLEDs are 20 x 20µm compared to 200 x 200µm for LEDs. MicroLED prototypes have already demonstrated power consumption as low as 10 per cent that of an LCD display, and half that of an OLED panel.
Traditional planar 2D microLEDs are produced by depositing flat layers of gallium-nitride (GaN) crystal on sapphire wafers of 100 to 150mm diameter (4-6 inches), with the majority of production today being on 100mm (4-inch) wafers. Aledia's microLED technology grows GaN nanowires (GaN crystals of sub-micron diameter) on top of large-area silicon (called '3D').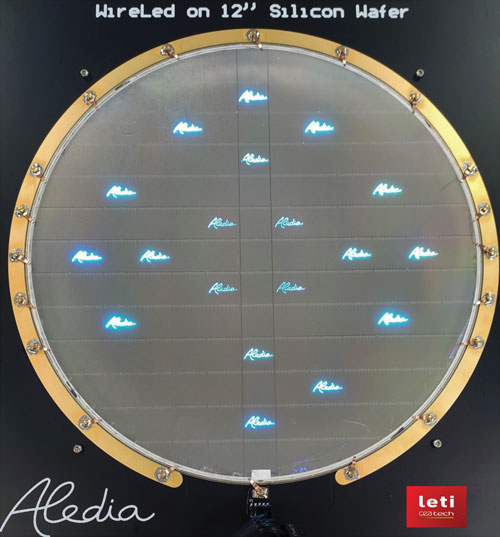 MicroLEDs printed on a 300mm wafer. (Image: Aledia and CEA-Leti) 
This 3D nanowire technology does not create any of the stresses seen on 2D chips, which build up as the wafer size is increased, and so allows the use of very large-size wafers. 
In addition, this silicon-based technology allows production in conventional microelectronics fabs, called silicon foundries, which can be ramped up to high-volume production with extremely high yield.
Emmanuel Sabonnadière, CEO of CEA-Leti, said: 'We are very pleased to have helped Aledia push forward the state of the art of 3D LED manufacturing, using our 300mm silicon processing line. We believe large-area silicon wafers are the best manufacturing platform in the world today for displays, and give big advantages in manufacturability.
'3D nanowire micro-LEDs have the potential to make serious penetration into large display markets. CEA-Leti is very active today in supporting the display industry's transition to microLED technology.' 
Aledia's Anania added: 'We believe the use of large-area silicon wafers and microelectronics foundries are the only way to deliver the huge volumes demanded by end-user markets. For example, if only the large-screen TVs of 60 inch in diagonal, and larger, transitioned to silicon nanowire technology to obtain better image quality and lower manufacturing costs, this would require 24 million 300mm wafers per year, volumes that can only be delivered by the silicon industry and supply chains. Smartphones, laptops and tablets would be on top of that.'
In October, Aledia raised €80m, the first part of its €120m D-round financing. The company will use the proceeds to complete its product development and create a high-volume 3D microLED manufacturing facility in the Grenoble area of France. 
--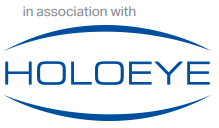 Featured product: Luna compact phase only spatial light modulator from Holoeye
The new Luna spacial light modulator (SLM) is based on an 0.39" LCOS microdisplay with a resolution of 1,920 x 1,080 pixels and 4.5µm pixel pitch.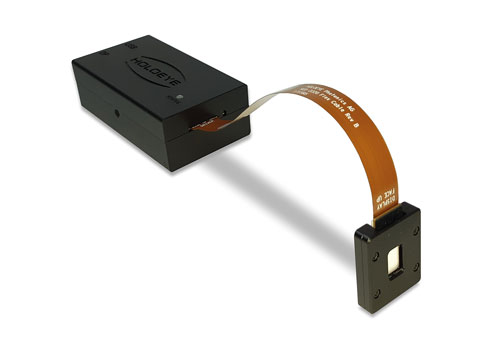 The SLM provides linear 8 bit phase levels and is addressed via DisplayPort at 60 Hz input frame rate.
Holoeye currently offers two versions of the Luna SLM: A VIS version (2 Pi phase shift @ 420 650 nm) and a version for the telecommunication waveband, around 1,550nm (1,400-1,700nm). The driver ASIC is embedded in the LCOS microdisplay itself. This saves board space, which enables a very compact driver and enables implementation into small sized and portable solutions. The standard driver box has a size of only 85 x 47 x 28 mm.
The display can even accept video data input via a four-lane MIPI DSI. 
This novel approach brings phase only SLM technology to a new level of potential for industrial implementations.