Tech focus: positioning equipment
A look at the current market for positioning solutions and some of the products and solutions available
In both research and industry, positioning equipment is vital to providing high-resolution, repeatable motion and fixturing across a wide variety of photonics applications. It can include anything from linear stages, rotational stages and hexapods to actuators, motion controllers and drivers. 
To provide just one example, equipment is a crucial part of any application involving laser technology. Laser beam positioning and steering requires extreme precision, dynamics and reliability, which can be achieved through the accurate manipulation of lenses and mirrors. 
Piezo drivers provide an example of equipment used for parallel-kinematic positioning in compact tip/tilt mirror systems. Piezo-based scanning platforms are used, for example, to manipulate beams during the production of electronics. 
Positioning equipment also plays a crucial role in the manufacture of aspherical lenses. These are used to achieve high image quality in systems using fewer optical elements, providing savings in both cost and weight. However, testing the aspheric shape accuracy of such lenses is a considerable challenge; it requires using interferometry to measure the tiniest deviations in the nanometre range. Here, hexapods can be used to manipulate the lenses when carrying out positioning tasks during calibration and measurement. 
Other application examples of positioning equipment include: microscopy, in which linear and rotary stages are used to lift and rotate the samples; silicon photonics fabrication, in which delicate waveguides must be handled with great precision when integrating light sources at a wafer level, while optical fibres must be aligned and connected; and the positioning of optical elements when assembling complex optical systems, such as objective lenses for smartphone cameras or laser cavities.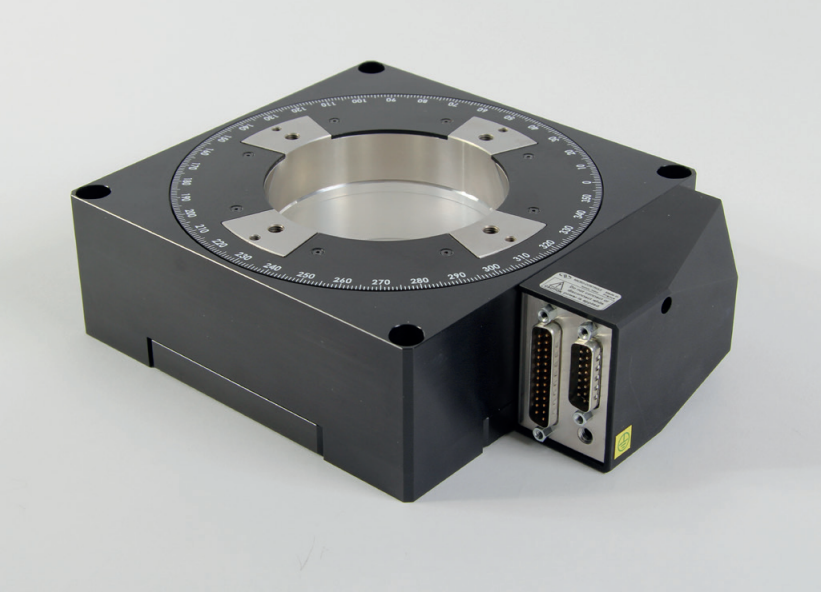 The RGA150 Motorized Rotation Stage is the latest world class rotation stage from MKS, adding to the breadth of readily-available, standard, precision stages. The RGA150 was designed to move rapidly, with a low-profile and large aperture. It addresses the need for quick angle adjustments of wafers and vacuum chucks. 
Although specifically tailored to semiconductor applications, the RGA150 can also be used in other industrial applications such as through-hole imaging/inspection, laser processing, automation or any general positioning application that requires fast positioning response. With a sub-mdeg MIM, the RGA150 provides the same level of positioning precision as the industry-proven RGV with faster speeds, similar MIM and loads up to the typical weight of the chuck and wafer in semiconductor wafer applications. The excellent repeatability and mapped sub-mdeg accuracy of the RGA150 are a result of MKS' experience in design and precise manufacturing. 
Further information www.newport.com/p/RGA150
Laser Components: featured product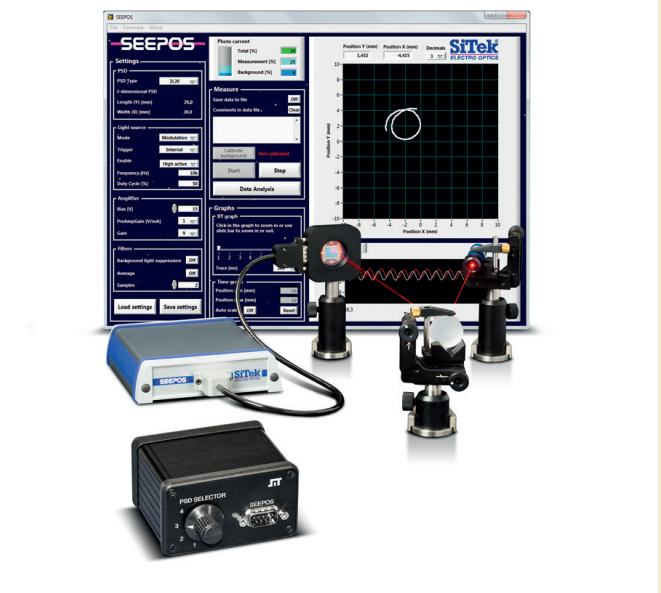 Position sensitive detectors (PSDs) offer high accuracy (~2.5µm), excellent resolution and short rise times as fast as 30ns for non-contact alignment, position measurement/ detection and machine vision applications. SiTek's PSDs are available in wavelengths from 400-1100nm with a variety of options including one-dimensional (single axis), two-dimensional (two axis), specialist 3D arrays for contour measurement, UV, YAG and nuclear sensors. 
Application examples include railway bow measurement for fault detection, vibration monitoring, 3D contour measurements, bridge and tower construction, shaft alignment, robotic guidance and a variety of machine vision applications. 
These PSDs can be used with the SEEPOS PSD processing tool to interface with your PSD and connect directly to your computer, complete with a LabVIEW compatible software package and data analysis suite. The SEEPOS system offers a plug and play style system, with a real-time display including analogue and digital features. Used with the PSD/SEEPOS switch, the operator can easily switch between one to four PSDs. www.lasercomponents.com/uk/photodiodes/position-sensitivedetectors/psd
Commercial products 
Vendors of positioning solutions include Aerotech, a manufacturer of precision automation and motion-control equipment ranging from component-level solutions (motors, drives, controllers, linear/ rotary stages, gantries, piezos and hexapods) to turnkey automation systems, custom-engineered motion subsystems and modules. 
Alio Industries is a vendor of nanotechnology motion systems. The company's True Nano precision motion systems include the patented Hybrid Hexapod, along with more than 350 standard products. Other offerings include cartesian gantries, Micron 2 motion systems, rotary motion systems, Z-Lift and vertical motion stages, linear motion systems, custom solutions and more. 
Applied Scientific Instrumentation provides precise closed-loop XY stages, Z drives, piezo stages and other precision positioning equipment, as well as light sheet microscopes and custom microscope/optics. The company works directly with end users and OEMs to provide both stock products and custom solutions.
Excelitas Technologies is an industrial technology manufacturer focused on delivering photonic solutions to meet the lighting, optical, optronic and detection needs of global OEM customers. With positioning solutions amongst its offerings, the company serves applications across the biomedical, scientific, safety, security, consumer products, semiconductor, industrial manufacturing, defense and aerospace sectors. 
Haydon Kerk Pittman offers a broad range of precision linear motion products from components to complete custom systems. The company manufactures precision acme lead screw and anti-backlash nut assemblies, stepper motor based linear actuators, rotary motors, brushed and brushless and linear rail and guide systems. It also offers customised motion solutions. 
For Laser Components, when it comes to optomechanical components there is a differentiation between those used in laboratory applications and parts for high-power lasers. Optomechanical mounts and beam dumps are available for the laboratory and the company offers both beam delivery components and complete lens systems for powerful lasers. 
Newport has an extensive catalogue of standard and custom products for manual positioning and motion control applications ranging from industrial to nanopositioning. These include linear translation stages, rotation and tilt stages, multi-axis stages, hexapods, motion controllers and custom motion solutions. The company also has a line of optical mounts and mechanics. 
New Scale aims to help its customers transform larger, complicated systems into easy-to-use instruments and devices. The company provides tiny motion modules to adjust micro optics or mechanical components within handheld, portable and mobile systems. The modules have micrometre precision, work on battery power, perform at any orientation and resist shock, vibration and temperature extremes. Controls are built in for ease of integration. 
Mad City Labs designs and manufactures piezo nanopositioning systems and nanoscale precision instruments for metrology, photonics, astronomy and microscopy. Examples include Closed loop nanopositioners with low noise, high stability PicoQ sensors, piezo nanopositioners, single molecule microscopes, high precision micropositioning systems, and atomic force microscopes. 
Physik Instrumente has an extensive portfolio of high-accuracy motion/positioning technologies and precision automation subsystems. These include servo, stepper and piezomotor driven products, alongside air-bearing, cross-roller and flexure guidance, linear motors and screw drives. Products include nanopositioning stages, gantries, hexapods, linear & rotary stages/actuators and vacuum stages. 
SmarAct develops piezo-based positioners and measurement tools for the micro- and nanometre scale. Positioning systems with multiple degrees of freedom, parallel kinematics, optomechanical tools, laser interferometers and vibrometers are designed to help take customers' optics and photonics projects to the next level. 
Symétrie hexapods are designed to be dynamic (simulators) or precise (measuring hexapods or micro-positioning hexapods). Their very low mass-to-stiffness ratio gives them great dynamics with a high load capacity. These hexapods have applications in the naval, space, aeronautical, automobile, optical, medical, nuclear and electronic industries. They are also used by research laboratories. 
This is not an exhaustive list. If you provide positioning equipment and would like your company to be included, please let us know.