Clear path to a bigger future
Carlos Lee, EPIC's director general, talks to Koichiro Ikeda, president and CEO of Isuzu Glass
What led to you becoming CEO of Isuzu Glass?
Having graduated in Economics, I worked for a few years for an accounting firm until 2004, when I joined Isuzu Glass as finance manager. I worked in sales and gained a lot of experience in the material development of glass. Between 2007 and 2009, our business expanded considerably, and we set up a factory in China. Unfortunately, our projected markets and sales didn't materialise and in 2014 we were bought out by a venture capital group.
In the previous couple of years, I had put a lot of effort into finding new customers and partners to inject capital into the company, and when we were finally bought out, the VC wanted me to stay on as CEO.
How has the company developed in the last six years?
The workforce has grown to 80 and we now have more than 200 customers, 60 per cent in Japan and 40 per cent abroad. One of our main aims has been to internationalise the company and find more overseas customers. To this end, in addition to our head office and factory in Osaka, we've set up sales offices in Los Angeles and Frankfurt. 
We've also expanded or range of products in two main categories: firstly, optical filters for applications in opto-electronics, office automation equipment, photography, lighting and medical equipment; and secondly, glass moulded lenses, which include integrated and micro lens arrays, aspheric lenses, and a variety of other moulded lenses for the medical, sensing, UV LED, laser and 3D printer markets.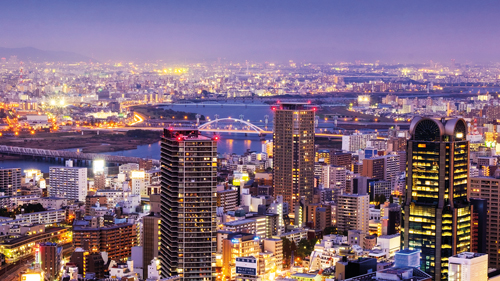 Isuzu Glass's head office and factory is in Osaka, but it also has offices in Frankfurt and Los Angeles
What have been your main challenges as CEO?
Until recently Isuzu Glass, like many other Japanese companies, had a closed mentality, and a major challenge has been to change the company culture to make us more open minded about communicating and collaborating with foreign customers. Of course, language is a problem but with our offices in the US and Germany this is less of an issue. What's more problematic is how to change the mindset of the people here in Japan.
What are your plans for Isuzu Glass over the next 10 years?
In order to develop new markets in Europe and the United States, we will increase sales of moulded lenses, improve our development and sales capabilities in optical filters, and expand our speciality glass materials business. Although our manufacturing capacity is not currently so big, we're growing quickly and in the near future we'd be interested in collaborating with a larger company in Europe to find synergies and scale up our manufacturing.
We're particularly impressed with the progress Europe is making with Industry 4.0 and the ongoing digital transformation.
Hopefully, as we're now a member of EPIC, finding a collaborator in Europe will be much easier.