Electro Optics magazine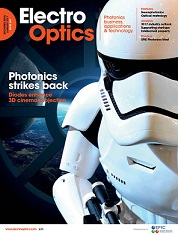 If you are potentially interested in advertising in Electro Optics magazine or EONewsline, please click here for contact details. You can download our 2022 media pack (PDF), as well as review a copy of our advertising terms and conditions. If you'd like a printed version of the media pack, contact the Electro Optics team on +44 (0)1223 221044.
To download our print and digital advertisement specifications and mechanical data, click here.
Electro Optics, the brand synonymous with the European optics industry, is proud to be celebrating 50 years of publication during 2018. It remains the number one brand for business growth and development in the European photonics industry.
At Electro Optics magazine, your marketing goals are our primary concern and we want to work with you to help you achieve the success for which you strive. Our proactive and dedicated approach helps us to understand your company and its objectives so we are best-positioned to recommend an effective and tailor-made marketing course for you.
With the purchase of Optics and Laser Europe (OLE) in 2010, Electro Optics enhanced its position as the leading route to market for photonics companies.
We continue to strengthen the editorial platform on which the magazine is based  ̶  after all, attracting and retaining the attention of our readers ensures your advertisements are seen in the best possible light.
We are expanding our editorial team to enable us to get even closer to the photonics industry. We will have more application stories and case studies  ̶  we believe that you will sell more products when readers see real-life, working examples of photonics technology in action.
Our ever-growing reputation for independent, unbiased features is seen as a core strength by many readers and advertisers.
We have expanded our editorial remit to include more technical features, reflecting the incorporation of OLE, while retaining many of the features that have made Electro Optics so popular in recent years.
We will also encourage our readers to learn more about you via exhibitions and trade shows. We have cemented ongoing relationships with all the major show organisers to ensure our distribution is second-to-none.
Electro Optics is read by industry and academia alike. We actively work with exhibition organisers and list-owners unavailable to other publishers to ensure our readership and circulation is second-to-none.
Electro Optics website 
Our website carries web-exclusive material, including news features and the very latest products, together with a fully searchable archive of all Electro Optics' high value editorial. It is increasingly popular with visitor numbers climbing month by month.
EOnewline email newsletter 
EONewsline is a monthly enewsletter that keeps thousands of engineers in regular touch with breaking news and events in technology, research, and the business world as it affects scientific software market. It reaches almost 17,000 recipients every month.
To subscribe to the EOnewsline please click here.
If you would like to discuss these and other opportunities, contact Stephen Russell or call +44 (0)1223 221044. You can also download a copy of our Terms and Conditions for advertising sales.