Welcome to The Photonics100
Introducing the Photonics 100
Discover the who's who at the cutting-edge of photonics evolution.
We celebrate the industry's most innovative people with the launch of The Photonics100 2023. This inaugural edition honours those that are the driving force behind the evolution of photonics.
When we asked you to help us create a list of the people that drive our industry forward – the innovators, the boundary-pushers, the disruptors, the out-of-the-box thinkers and the R&D 'rock stars' – we had no idea just how much interest the idea would generate.
The Photonics100 is a passion project that has a simple ambition: to spotlight the often unsung heroes at the cutting edge of our industry – Chief Technical Officers, Heads of R&D, Senior Engineers, research leaders, entrepreneurs and others – and tell their stories in a dynamic and, yes, entirely selective new way.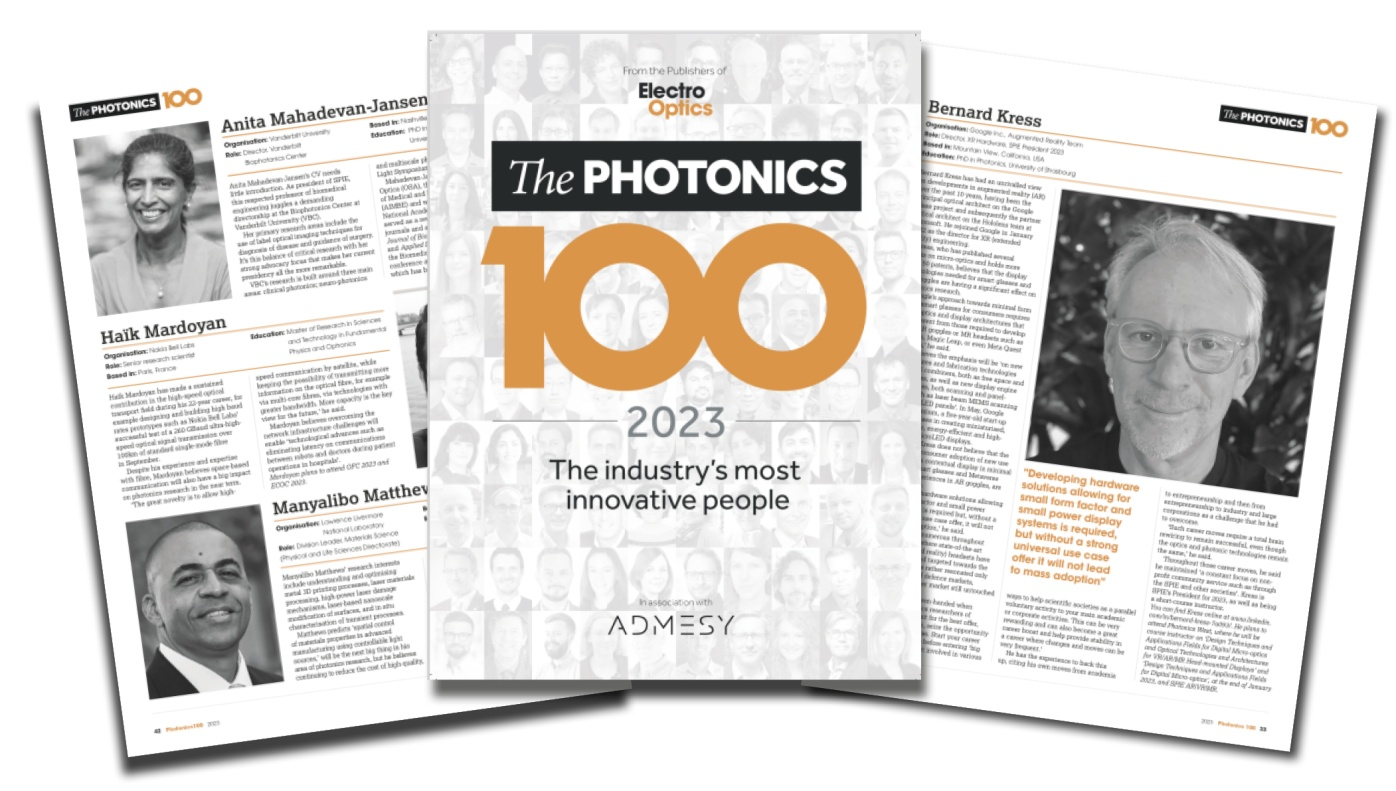 Explore the 2023 Photonics100 list below by logging in or registering for an account.
If you're a subscriber, simply login to your Electro Optics account, click the 'Emails' tab and select 'The Photonics100'.
Not registered? Sign up by completing the form below and ticking 'The Photonics100'.
Already signed up? Click here to request a digital copy of The Photonics100
Request Email of digital Photonics100
Nominations have been grouped into four distinct categories:
Photonics vendors – suppliers and integrators of photonics components and systems, such as optics, lasers, sensors, test and measurement, optoelectronics, illumination and imaging.
Original Equipment Manufacturers using photonics – integrators using photonics as an enabling technology in vertical markets such as life sciences, defence, automotive, aerospace, mechanical engineering, electronics, semiconductors and optical communications.
Start-ups – companies under five years old, operating as either a photonics vendor or an OEM (as defined above).
Academia/research – either those involved in photonics research itself or those using photonic technology to further research in a non-photonics field, such as physics, chemistry, biology, medicine, engineering and more.
No list such as this can claim to be exhaustive (there's just too much happening in the photonics sector currently to entirely capture the range, energy or creativity out there) but we hope it creates a compelling snapshot of the widely recognised and those less familiar who we, at Electro Optics, believe richly deserve a place in our list.
Mark Elliott,
Head Of Content, Europa Science
Electro Optics asked the Photonics100 honorees what they thought the biggest challenge facing the photonics industry in 2023 would be
Dr Lieven Penninck, the CEO of PlanOpSim NV and a Photonics100 honoree, is presenting at this year's Photonics West
Dr Laura Gemini, group manager, nanoscale laser processing & health applications at ALPhANOV, and a Photonics100 honoree, is a presenter at this year's Photonics West
The Photonics100 - from A to Z