John Murphy discovers how Active Silicon is ploughing its own furrow in a specialist niche
Every technologist dreams of founding their own company. Some dream of becoming the Microsoft of their industrial sector and they hope that no matter how big the company gets, they will be the exception and be able to always work on something technically interesting.
The sad truth is that most technology companies have to become sales companies to make a living. They can only grow by hoping to come up with something that will compete with the big boys and that seldom has anything to do with technology.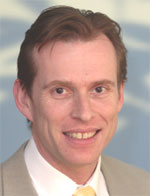 Colin Pearce, who gets to work on technically interesting challenges while making a good living.
Active Silicon was founded and is run by technologists who have tried to look at things another way. They do not compete with the big boys and shy away from mainstream products. This does not mean that they would not love to have a big hit, but their ethos is to look for smaller, more specialised markets within the vision sector, where their skills with the technology matter more than their salesmanship.
These small markets are prepared to pay more for a product that meets their particular needs, whether it is for reliability, environmental tolerance, or working with the less popular software environments.
The company's founder, Colin Pearce, gets to have his cake and eat it. He can work on technically interesting challenges without having to rely on a huge volume of sales to justify the investment in each product. The company makes a good living, but it's not all about money; it's also about believing in what you do, and Peace certainly does that.
Active Silicon was founded by Pearce in 1988. He had a degree in electronic engineering from Southampton University and went to work for the central research laboratories of Thorn EMI, working on digital television. He then did an MSc in artificial intelligence and, while working in his next job, decided that he could do things much better by striking out on his own with partner Chris Beynon.
He says: 'The impetus to do it was, firstly, that I had always wanted to have my own business; I didn't like working for other people and always felt I could do things better. I think that if you want to found your own company you have to have a belief in what you are doing and a belief that you are going to succeed and nothing is going to get in the way. This is the culture I try to create here.
'The window of opportunity that made it possible to start a business was the emergence of FPGA technology. We needed to make money quickly, as I had re-mortgaged my house. For the first two years we worked for various companies doings FPGA design consultancy. Once we had a reasonable revenue stream we were comfortable enough to take on a third employee and a bank loan so that Chris and I could develop our first product, while the third person continued the consultancy work.'
Pearce wanted to grow the business beyond what he and his colleagues could earn through their own labour, so he figured that designing a product, with manufacturing and distribution outsourced, would give them a revenue stream that would continue.
The first product launched in 1991 was a video capture and display board for the Sun Workstation. Although the potential market was not huge compared to Windows, there was very little competition. It was to set the pattern for the company: looking for niche markets where their technical expertise and low overheads could make it worth producing a higher-margin product, but in smaller numbers than the likes of Coreco.
Pearce says: 'There was one other on the market, from Sun itself. We saw the market opportunity and basically there were very few people around who had the skills to write the software for Solaris, so the bigger players had ignored it. It was a very successful product, particularly in Japan, mainly because at the time Microsoft had not released a Kanji version of Windows, so the Sun Workstation was the de-facto standard in industry in Japan. We enhanced it and made it work with digital cameras as well as analogue.
'The next development was a more general purpose range of frame grabbers, which is the start of the Snapper range that we sell today. We drew on the background of Solaris, which was the same as Unix, and we developed the hardware to run on both windows and Solaris. We also found a niche in the Apple Mac, which nobody seemed to be interested in. We have a lot of customers using Apple Mac, including NASA, medical imaging and scientific research. A lot of the research community on the west coast of the US use Macs, so we found a nice market there.
'One of our big Mac markets is in security; we have a four-channel card with a CCTV remote security application. In fact, the Apple Corporate Campus uses that system – I guess they did not want to use a PC and we were the only solution available. There are a lot of 19-inch rack-mounted Mac servers in the US.
'Our biggest market is still Windows, but there are a lot of people out there offering Windows products, so we looked for niches, such as high reliability and embedded systems, military and aviation markets. They may still use Intel and Windows, but they are also using other operating systems, like Linux and VxWorks. We are offering products that have a higher reliability, higher operating range and specialist operating systems that our competitors don't do and don't know how to do. For historical reasons, we have learned these systems and grown up with them over the past 15 years.'
More recent developments have been the Phoenix range of high-end frame grabbers and the LFG series, which is at the lower end. The niche it has exploited here is to offer products in the less popular form factors and bus architectures, as well as the less popular operating systems. The form factor is often enough to win an OEM deal, even when the application is using Windows. Pearce says that Active Silicon is always looking for new niches and, because it is a small and nimble company, it can often consider developing a product where the predicted volume is only $50,000 a year, although it is expected to last for several years of course.
Pearce says that the niche markets are not huge, but they are prepared to pay a higher price for what they want and so Active Silicon can make back the cost of developing its products with a fraction of the volume that the major players are looking for. It is not really worth their while developing products for these small markets, such as aerospace and defence, and if it was worthwhile it is certainly not where they focus.
One of the important factors to many customers in this market is security of supply. In the aerospace and defence world, manufacturers often go through a very long and expensive approval process for their equipment, and the approval is invalidated if the components or subsystems change. Anyone who has been in electronic design knows the frustration of spending a long time designing something and getting it approved only to find that the manufacturer of a component has decided to make it obsolete, even if they do suggest a similar alternative.
Pearce says that the low volumes of each product means that any component that is likely to be cut off in the near future can be easily stockpiled. His team also spend a lot of time trading on the secondary market in obsolete components. He says customers need to have at least two years' notice of the last opportunity to buy a particular product; some require more notice and will include a guaranteed supply-life in their contract.
Up until 2002 Active Silicon sold its products through distributor Data Cell. It decided to buy out the distribution contract and go direct.
Pearce says: 'At that point we had to tell the market that we existed. Before that nobody was really aware of us because we were selling into OEM accounts and nobody realised that they were using our boards. We had to create a marketing budget and go to trade shows and effective launch our brand.'
Initially there was a dip in sales while the direct marketing operation grew. Sales in the UK were done directly, with Germany also addressed directly from the UK. Pearce says he had considered a distribution deal with Stemmer Imaging to cover Germany, but was glad he didn't do it as he has won a lot of business directly. A series of reseller deals were established to give coverage around the world. The majority of sales have always been outside the UK, so global coverage was extremely important.
Half of Active Silicon's revenue comes from system products rather than just selling boards. This is almost accidental, as the company does not market itself as a systems company, but customers often come to it looking for a board and end up asking it to design the whole system. In some respects it is competing with potential customers, but again it tends to work in niche markets where the customer wants something that is not standard.
As a result of this systems work, software has become a useful sideline for Active Silicon. It does not have the huge standard libraries of other frame grabber manufacturers, but has developed some basic algorithms in response to customer projects together with APIs and SDKs for its board products. Some years ago it developed and patented a colour sorting algorithm. This has been built into a complete system used by casinos to sort their gaming chips.
Pearce says: 'It is a bit of a change from our usual market, but it produces a useful revenue stream. One of our existing clients moved to a company specialising in gaming technology and asked us to develop a machine for them. I said this is the same as the sort of machine that people use to sort products on a production line and so we built them a complete system.'
The next development is in smart cameras. Again the idea is not to compete in the mainstream market, but to look for smaller niches. Having already developed a video server to go into an embedded security system the obvious next step was to develop a simple camera that included a processor and network connectivity. Pearce does not expect this to take the world by storm and become the standard for security cameras, but he is ever hopeful. In the meantime it will offer a solution in niches not being addressed by other players.
He is looking at other camera ideas and is thinking along the same lines by looking for small opportunities that a small company can exploit rather than going head to head with Cognex or Dalsa. There are plenty of applications for cameras in the defence and aerospace sectors that would be prepared to pay for something a little different.
Active Silicon has grown at a steady rate of about 20 per cent per year since it was founded, turning over £2.7m last year, and Pearce is quite happy to continue like that. Maybe one day he will hit the jackpot and one of its products will strike a chord in a volume market, but he knows that if that were to ever happen, large competitors would only start to take an interest in his little niches and bring their economies of scale to bear.
He has managed to keep the company going without requiring any venture capital funding, which he believes has been an important factor, because it allows the company breathing space to develop a product without having to deliver numbers to outside investors.
He says: 'This is the most successful technology company that is run by technologists. Technology companies are often run by accountants and lawyers who don't really understand the technology, which is a problem for the whole industry.'
He has had a few offers to buy the company over the years and says that maybe one day, he will succumb to the temptation. But in the meantime he is enjoying his independence and still loves looking for the niche that requires some interesting technology rather than the big volume play.